(Cinet)- The 2014 Italy-Vietnam fashion show entitled "All Beauties Lead to Rome" is scheduled to start at 8:00 pm tonight, October 5, at Sofitel Legend Metropole Hanoi, 15 Ngo Quyen Street, Hoan Kiem District.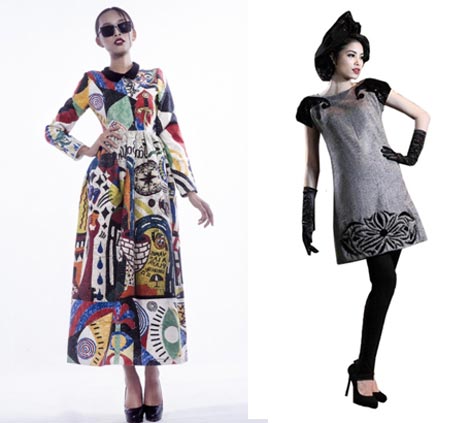 Image of the collection "Come Back" by local designer Thieu Ngoc.
The event aims to present and promote Vietnamese and Italian cultures through fashion.
It is expected to be a mixture of Vietnam's traditional beauty and Italian elegant, classy fashion standards.
The show will open with the collection "Tro Lai" (Come Back) by local designer Thieu Ngoc, which is inspired by the children's paintings on the four-kilometer-long Hanoi Ceramic Mosaic Mural, recognized as the world's longest by the Guinness World Records in late 2010.
The collection, based on the world fashion trends, harmoniously combines both Italian and Vietnamese culture.
The second part of the show will present the collection "Da Khuc Dem Dong" (Winter Night Melody) of Vietnamese fashion designer Nguyen Cao Bang Tam, inspired by chrysanthemums – typical flowers of the Vietnamese capital city.
Vietnamese designer Trang Cherry is slated to showcase her collection, "Ky Uc" (Memory), in the third part of the night.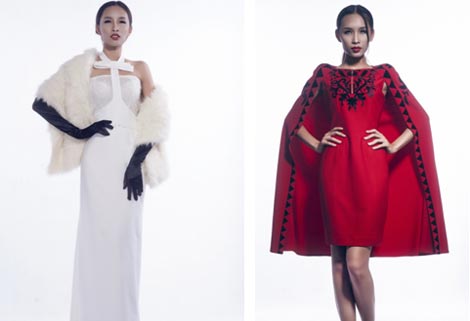 Image of Vietnamese designer Trang Cherry's collection "Memory"
With a retro style, the collection drew its inspiration from the paintings of the ladies in the 1950s whom Trang had met when she traveled to Italy. Via this collection, Trang wants to tell an Italian culture story.
The show's final part will be the presentation of Do Trinh Hoai Nam's collection, "Colosseum," in which he describes the beauty of Europe through the eyes of a Vietnamese.
Nam created his designs after his tour to Europe, as he was impressed by the longstanding cultural background of Italy.
The 2014 Italy-Vietnam fashion show will bring audiences a chance to contemplate a cultural combination between the two countries through fashion.