(Cinet)- A fashion show was held at the Museum of Vietnamese Ethnic Culture in the northern province of Thai Nguyen on March 16 as a part of the 4th international seminar on the art of traditional weaving in ASEAN member countries.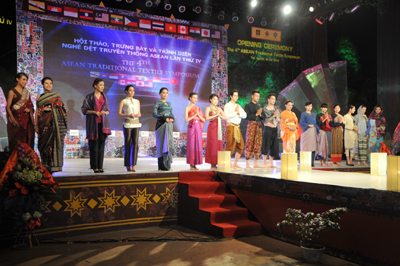 Traditional costumes of ASEAN countries: Brunei, Cambodia, Indonesia, Malaysia, Thailand, India, Japan in the 4th ASEAN Traditional Textile Symposium
This will be a significant event to highlight the values of textiles and traditional costumes of regional countries in ASEAN community and Vietnam as well.
Participants of the shows are famous models coming from the Vietnam Textile and Apparel Association (VITAS), TNG Investment and Trading Joinstock Company and some other international models. Focusing on the theme 'tradition, renovation, connection'.


Fashion Gala Night at March 17 as well as Closing Ceremony of the 4th ASEAN Traditional Textile Symposium with 50 ao dai clothes by the designer Vietnam traditional dress - Lan Huong and 40 spring, summer clothes.