(Cinet)- A traditional long dress collection by designer Thuan Viet will be introduced in France and Belgium to celebrate Vietnam Days from June 23 to July 01.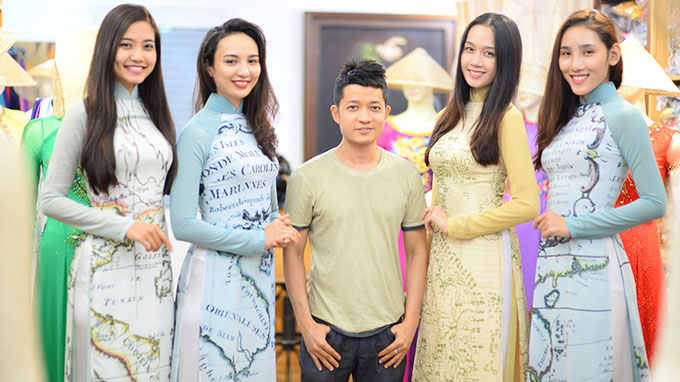 Titled Uoc Vong Hoa Binh (Desire for Peace), the collection include 12 ao dai made from Vietnamese silk. Half of the garments feature hand-drawn with waves and pigeons with 3D effects, while the rest are printed with ancient maps of Viet Nam.
The maps will also appear on conical hats and paper fans, displayed alongside the Ao Dai, worn by six famous Vietnamese models - Bac Linh, Ninh Hoang Ngan, Thuy Linh, Le Thu An, Khanh Phuong, and Ngoc Diem.
Various noted singers and musicians will also perform, including Ta Minh Tam, Van Khanh, Tieu Chau Nhu Quynh and Mat Troi Moi, band as well as artists from the Bong Sen Theatre.
Designer Thuan Viet has also completed two other ao dai collections showcased earlier this year in Lyon named Nhung Canh Hong Lyon (Lyon Roses) and Duyen Dang Viet (Vietnamese Charm). The first collection includes six designs made specially for Lyon, while the latter features images of common flowers in Viet Nam such as the apricot, orchid and chrysanthemum. The patters were embroidered by hand and adorned with Swarovski crystals.


Ao Dai designs of Thuan Viet are well-known for their high-quality silk and hand-made embroidery techniques.