(Cinet)- The H'mong are the eighth largest ethnic minority in Vietnam. Belonging to the Sino-Tibetan and specifically the H'mong-Dao language group, they settled widely over northern Vietnam but most densely along the Lao and Chinese borders. Now, let's learn more about their traditional costumes.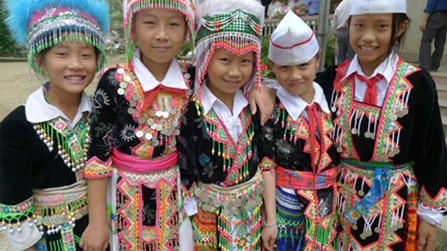 The H'mong attire not only catches the eye but also the ear. In the field, on the road, or at the market, a H'mong woman is easily noticed by the jingle from her clothes. It comes from all the accessories and jewelry she wears.
Besides all the colors and patterns, the H'mong also like to decorate their clothes with metal coins that are carefully attached to waistbands, leggings, hats with colorful strings. The coins are normally made of cheap metal, but are sometimes in silver and have French-era patterns. They are available at all local markets.
When Tet nears, H'mong girls make waistbands with many coins to decorate their dresses. A family's economic status can be gauged from the number of coins in their dresses.
Moc Chau, Sa Pa, Sin Ho, and Dong Van are well-known for their magnificent landscapes alright, but are likely to lose half their charm without the colorful H'mong.