(Cinet)- Vietnamese designer Vo Viet Chung was the only Asian designer named in the 7th annual Leonardo Simpson's 10 Best Dressed, which was recently announced in California , the US.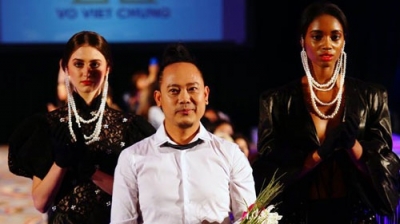 Vietnamese designer Vo Viet Chung and his designs
Chung has showcased his designs on many television programmes and at prestigious events around the world, with an eye for trends and a distinctive original style.
He has been famous for his glamorous, elegant and sophisticated creations reflecting an amalgamation of classic and traditional Vietnamese design and its dynamic and vibrant modern culture.
In 2013, the Vietnam Environment Protection Fund appointed Vo Viet Chung as Director of the Blue Ocean World" project, He is also the founder of Vietnam 's Miss Ocean Beauty contest.
He has received the title of "Best Designer of Year" several times.
The selection criteria were based on the evaluation of fashionable critics and reporters from leading fashion magazines through one of four international prestigious fashion shows in London, Milan , Paris and New York .
Leonard Simpson is known as the creator of Fashion Forward, an internationally known fashion production company with more than two decades of experience in producing high-style fashion shows, television segments and Broadway-style shows.