(Cinet)- The Vietnam Fashion Week Fall-Winter 2013, showcasing the creativity of 18 home-grown and foreign designers, officially opens on April 18, at the Hanoi Daewoo Hotel.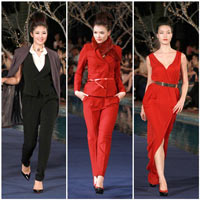 According to Minh Hanh, representative of the show's organising board, this year focuses on new, easy to maintain materials and styles that harmonise the traditional and modern and help producers reduce costs. The participating designers are also expected to offer an number of unique surprises for the audiences during the week.
The designs reflect young, elegant, luxurious styles cut with the latest techniques and made from felt, denim, lace, and cotton dyed in the bright colours that are the trend for autumn-winter 2013. They are perfect for picnics, parties, offices or just going out for a walk.
Many ideas will be presented at the show, including Ngoc Han's collection, inspired by Yves Saint Laurent's Le Smoking designs from the 1960s, which focuses on elegant women in gentlemen's waistcoasts and capes, and the 'Chula and Music' collection featuring a love story between music and fashion.
The highlights of the week include a collection by French designer Francoise Hoffmann that features fashion made from silk and sheep fur in a technique that does note use any stitches.
The first Vietnam Fashion Week was held in 1990 and has since become the main annual event for the Vietnamese fashion industry.
Vietnam Fashion Week Fall-Winter 2013 will run until April 20.