(Cinet)- A grand show of "ao dai"(Vietnam's traditional long dress) will be honoured with a special performance taking place as part of the 2014 Hue Festival.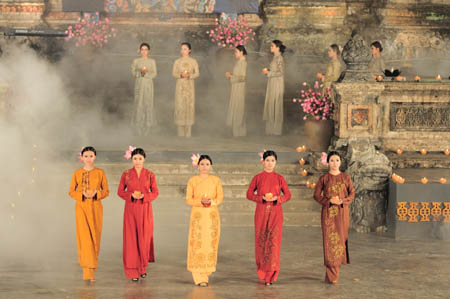 With the theme "the world reflected in the ao dai", the show will take place at Phu Van Lau (flagpole) on April 14 and 17.

At each biennial edition of Hue Festival, the Ao Dai Grand Fashion Show claims the hearts of the audience, for its mission—to preserve the traditional beauty of the Vietnamese ao dai (tunic dress and trousers)—has been profoundly enhanced in recent years by the creative input of fashion designers from around the country. This year too, designers have used their imagination and audacious creativity to create breathtaking designs, each of which conveys not only the inherent grace of the ao dai but also the distinctive style of a different nation, so viewers can enjoy both traditional and modern aspects of fashion with global flair.
The show assembles 100 well-known models to present a collection of 600 ao dai made by the designers Quang Huy, Thuong Huyen, Duc Hai, Charming Lys, Duyen Huong, Vu Viet Ha, Chu La, Ngoc Han, Lan Huong (Hanoi), Phan Quang Tan, Viet Bao (Hue), Si Hoang, Hai Long, The Huy, Quang Nhat, Tang Thanh Cong, Minh Hanh , Cong Khanh and Viet Thang Garment Joinstock Company. The famous pyrotechnic artist Pierre Alain Hubert will once again enhance the Grand Fashion Show with his magical firework spectacle. This Festival's ao dai designs send a convivial message to people all over the world, inviting them to look together towards a peaceful and sustainable future.
Some collections will be showcased at the Hue Festival 2014.