(Cinet)- Three Vietnamese and one Spanish designers put fashionistas into a beautiful world of natural materials at the Ecomia Fashion Show in Ha Noi on June 05 to celebrate World Environment Day.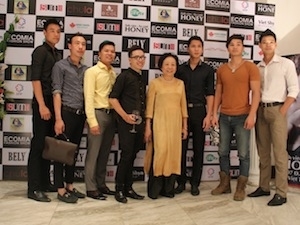 Vietnam's young designers at the event (Source: VNA)

The designers introduced dresses made from materials like natural cotton and silk and dyed with leaves, a technique refined by Hoang Thi Linh, a retired professor at the Hanoi University of Technology.
Linh started researching the technique in 1995 when she joined a project to help ethnic people dye brocade products.
Then she redeveloped ancient dyeing techniques that use natural colours extracted from leaves, roots and seeds of green tea, bamboo and trees in the wild.
"The new techniques are environmentally friendly, reduce the need for imported dyes - and provides incomes for farmers," she said.
Linh cooperated with Trung Thu Textile Company and Vietnam-Finland Innovation Partnership Programme to produce many products under the brand names of Ecomia and Ecol.
"I think with the technique of using plant dyes, traditional sewing techniques and embroidery, will make eco-fashion a trend that shapes the new fashion industry," she said. At the fashion show, Vietnamese designers and the owner of Chula fashion, Diego Cortizas, promoted the idea through their creative collections.
Designer Cuong Bely said during 10 years working in the fashion industry, he never liked silk because it wrinkled, was not durable and needed care. But he was inspired by Linh's effort to create Giac Mo Dem (Night Dream) collection of silk dresses using simple colours and sophisticated accessories.
Huy Nguyen introduced his collection Bay (To Fly) combining Western elegance with Vietnamese materials.
Designer Nguyen Thi Ly brought images of One Pillar Pagoda and Hanoi 's Old Quarter to her collection.
Spanish designer Diego Cortizas drew gasps with his collection Go Green including 30 dresses. He took advantage of bright, vivid colours combined with Vietnamese silk and embroidery.
Cinet/VNA