Noted designer Minh Hanh and a group of young Vietnamese designers have returned from a 10-day Italy trip, where they got a chance to work and exchange professional experience with Stefano Dominella, the president of fashion association AltaRoma. This opens more opportunities for young Vietnamese to learn from their counterparts in one of the countries with the most developed fashion sector. Culture Vulture spoke to Hanh as she just returned from Italy.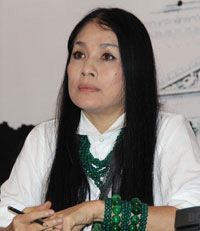 Why did you and the other Vietnamese designers visit Italy?
Our study tour is one of the strategic development activities in fashion between the Viet Nam Embassy in Italy and Italian Embassy in Viet Nam.
The recent connection between Vietnamese and Italian designers was jointly organised by Vietnamese ambassador to Italy Nguyen Hoang Long and president of fashion association AltaRoma Stefano Dominella. It aims to benefit the fashion industries of both countries through fashion exchanges and training.
As far as I know, this furthers the possibility of co-operation between Viet Nam and Italy. The Vietnamese Embassy has joined with a number of Italian designers to organise Viet Nam fashion shows in a number of Italian cities and held meetings with various Italian fashion design associations to exchange experiences and strengthen co-operation between the two countries.
Dominella [also the chairman of Gattinoni fashion house] said that although Italy's fashion industry is one of the most developed in the world, the country's young stylists still want to learn and share experiences with the fashion sectors of other countries, including Viet Nam, especially in handmade designs.
He also expressed his hope that the Italian fashion industry and Gattinoni in particular would find new fashion markets in Viet Nam and others in Asia.
He affirmed Gattinoni would support and create favourable conditions to help young Vietnamese fashion designers.
What were the results of the trip?
We agreed on some specific co-operation programmes. In September, young Vietnamese designers will go to Italy to work with Italian counterparts in order to hold fashion exhibitions and shows. Some Vietnamese designers will be trained at the Academia Italiana, an art, fashion and design school.
And in early December, similar performances will be organised by the Italian embassy in Ha Noi. Specifically, Autumn-Winter Viet Nam Fashion Week 2014 will present unique designs by Vietnamese and Italian designers. In addition, the Viet Nam embassy in Italy and AltaRoma are attempting to complete necessary procedures to inaugurate the Italy-Viet Nam Fashion Association this year. This will open ample opportunities for the two sides to single out the best solutions for the fashion industry.
You visited the Haute Couture workshops of Dominella's Gattinoni fashion house. What was your impression?
They have high-profile designers and technicians who have devoted almost their whole lives to Gattinoni. They always show their deep passion for what they make. They know by heart the taste of customers, both old and new.
That's why the life of a Haute Couture product is stronger day after day. Designers, young and senior, are working passionately. They don't think about when they will retire.
What can you say about Viet Nam's Haute Couture fashion as well as its development potential?
For years, Vietnamese customers have felt a need to wear Haute Couture items. They often seek out designers that make the most unique creations. I know many people who have bought high-end products of luxurious brandnames (not Haute Couture products) and still do not feel satisfied. They argue that they spend a lot of money on the products but the outfits are not unique.
Viet Nam's Haute Couture fashion industry came into being for this very reason.
During the trip in Italy, a 90-something Italian stylist held you tightly when she saw you in a brocade costume, saying "Please keep this and never part with it!" What do you think about that?
For me, those are the words of a person who has great experience in fashion. They see great value in the most high-class and unique products. That is sincere advice from a "predecessor" for me and I will take her advice as a way to keep the self-respect of Vietnamese fashion sector, which also takes price in its national identity.
Source: VNS