Hai Bà Trưng Temple is located 500 kilometres from Nguyễn Công Trứ street, in Đồng Nhân commune. This temple was erected in dedication to the two Trưng sisters - Trưng Trắc and Trưng Nhị, the first two heroines of the country.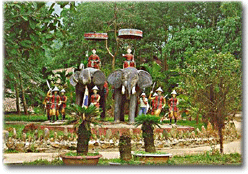 Hai Bà Trưng's heroic uprising against the ruling Chinese lasted 3 years and was defeated. However this uprising is an event of great significance as it left a bright example to later generations. People built many temples to honour them, the most famous are three temples, Hát Môn Temple (in Hà Tây province), Hạ Lôi Temple (in Vĩnh Phúc province), and Đồng Nhân Temple (in Hà Nội).
Hai Bà Trưng Festival runs from February the 3rd to the 6th day of the lunar calendar. On the 3rd day, it starts with the ritual ceremony of opening the temple's door. In the morning of the 4th day, people begin lễ tế or lễ nhập tịch (the funeral ceremony). The 5th day is the main day of the festival. During this day, it holds lễ tắm tượng (a statue-bathing ceremony), lễ tế nữ quan (woman-officer worshipping ceremony) and a candlelight dance. On the 6th day is the "ăn chay" (vegetarian diet) ceremony. According to ancient practices, a ritual worshipping ceremony is performed by elderly women.
The statue-bathing ceremony is the most important. In the early morning, a procession involving lacquered and gilded palanquins carried by young men and escorted by older men with a phường bát âm (music band), solemnly proceeds from the temple to the Red River.
Source: Hanoi administration tourism