(Cinet)- Festivals are one among the most activities of Lai Chau in particular and mountainous regions' in general.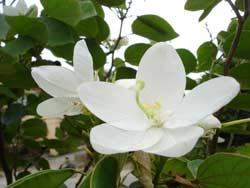 The most popular one in Lai Chau is "Hoa Ban festival", which reflects the cultural and spiritual life of Thai people. In the second lunar month of the year, when it gets warmer and "hoa ban" (the significant kind of flower in the Northwest area), blossoms, "Hoa Ban festival" is celeberated. This is time for boys and girls to meet and get to know each other. The boy picks up the most beautiful flower and put it in his girlfriend's hair. The girl hides under the fresh leaves. This is not only the time for love but also for Thai people to pray for good crops, happiness, expressing their gratitude to ancestors. The festival is always full of songs and prays.
Another famous festival is "Han khuong festival", which takes place in spring. Once again, this is an opportunity for boys and girls to get to know each other by singing and dancing. "Han" means stage, "Khuong" means yard. When the festival starts, young, beautiful and unmarried girls sing love songs on the stage. Then, the boys sing songs for response. At the same time, they can look for a person who can share their feelings and then come, sit together and talk. After that, they date, and wait for the next appointment. And can you guess? After the festival, many couples get married. For old people, that is the time for memories.
"Gau Tao festival" – "spring traveling", a festival of H'mong people, is held every spring. After Lunar New Year festival, couples go to the market just for spending time together. The boys play "Khen", a kind of musical instrument for one another.
Lai Chau is exactly a captivating and typical mountainous land, absorbing huge numbers of tourists widespread. If you are interested in ethnic minority culture, you should really take part in a market or festival of Lai Chau, which unveils the mountainous culture in the way of a "love-blossoming" land!