(MOCST)- Every 2 years, as planned, the Viet Nam National Film Festival has brought about National valuable spiritual gifts for lovers of the "seventh art". Undergoing its 20th editions, the Viet Nam Film Festival has achieved remarkable milestones in the development process of the Viet Nam cinema.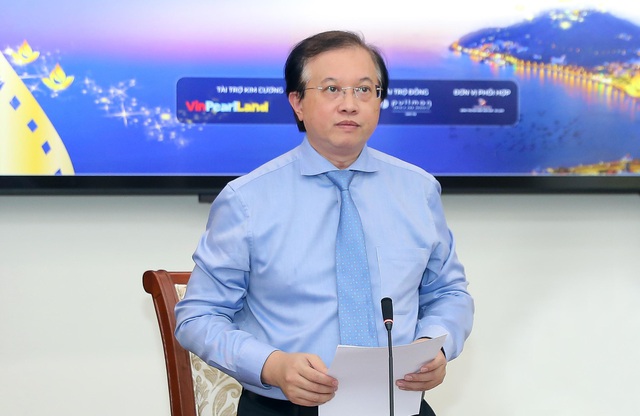 Ta Quang Dong, Deputy Minister of Culture, Sports and Tourism, Chairman of the Steering Committee of the 21st Viet Nam National Film Festival. Photo: Minh Khanh
The 21
st
Viet Nam National Film Festival - 2019 is organized in the context of Viet Nam's integration into the international arena in many fields, as well as the influence of the Industrial Revolution 4.0. Furthermore, Viet Nam cinema is oriented as a very important and spearhead sector in the Strategy to develop Vietnamese cultural industries to 2020 with a vision to 2030 approved by the Prime Minister. 104 selected films of different categories, from movies, documentaries, cartoons partly reflect the concerns, levels of emotions, desire of development of the Vietnamese towards the beauty of the soul, the righteousness in life while protecting fine traditions of our people. Thus the theme of the Festival is defined as follows: "Building a Vietnamese Film industry of nationality, humanity, creativeness and intergration". In the Film Festival, the audience will engage more actively in the event by directly voting for the favourite feature films in the Panorama program to select the "People's choice awards". Two workshops entitled "Film locations in Viet Nam" and "Improving the quality of Viet Nam cinema in international integration" will concentrate enthusiastic, insightful opinions of Vietnamese and international delegates, which will contribute to the sustainable development of Vietnam cinema in the coming years.
Additionally, the exhibition entitled "Vietnamese Sea and islands through cinematic perspective " will promote beautiful landscapes of sea and islands of Viet Nam in many films to domestic and international artists and audience.
On behalf of the Steering Committee of the 21
st
Viet Nam National Film Festival, I would like to express sincere thanks to Ministry of Culture, Sports and Tourism, the Provincial Party Committee, People's Council, People's Committee of Ba Ria - Vung Tau, media agencies, sponsors, the international guests, especially the members of the Jury Boards, the domestic and foreign artists for enthusiastically supporting, assisting and creating favorable conditions for the 21
st
Vietnam National Film Festival.
I would like to extend delegates, artists and all of you good health and best greetings./.
Associate Professor. Doctor TA QUANG DONG
Deputy Minister of Culture, Sports and Tourism
Chairman of the Steering Committee of the 21st Viet Nam National Film Festival