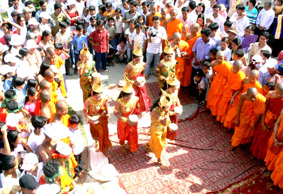 Illustrative image
(Cinet)- The Ethnic Khmer New Year, Chol Chnam Thmay, will be featured at the Southern Land food festival at Dam Sen Park in HCM City from May 29 to June 1.
The Khmer Art Troupe of Bac Lieu Province will showcase life, culture, and art of the ethnic minorities during the four day festival, said a representative of the city's Departments of Tourism at a press briefing yesterday.
They will feature Khmer's costumes and the dances lam thol and chhay dam, and perform
dan ngu am
(five-tone musical instrument).The fifth festival will also focus on ethnic cuisine with dishes like bun
nuoc leo
(vermicelli soup cooked from Bo Hoc salted fish) and cakes made of palm sugar and ginger. Besides enjoying a wide variety of more than 200 dishes, visitors will have an opportunity to watch demonstrations of cooking arts, and decorative arts of fruit and vegetable carvings.
The organizers, in cooperation with Bac Lieu Province's Department of Culture, Sports and Tourism, will donate VND100 million from the festival's proceeds to 20 poor Khmer households in the province's Hoa Binh District.
In addition, restaurants, hotels and well-known food and beverage businesses in HCM City and 16 provinces, including Vung Tau, Dong Nai, Binh Thuan, Ninh Thuan, Tay Ninh, Ben Tre, and Long An, will take part in the event with a total of 100 food pavilions.
"
Mot Goc Cho Que Phuong Nam
" (A Corner of the Rural Southern Market) will display Southern specialties, including goat, duck and chicken, and will feature hawkers as well as a circus and ho doi dap (call-and-response singing).
The festival has become an annual event of the city designed to promote regional cuisine to both local and foreign tourists.
As known, Chol Chnam Thmay is actually New Year festival of Khmer people in Southern Vietnam. It usually lasts three days in normal year and four days in leap year. Khmer people believe that every year the heavens send a God called Tevoda to the earth to look after human beings and their lives. Chol Chnam Thmay takes place from April 14-16 marking the changing of the gods that look after people and their life on earth, including the annual harvest.