Phu Tho has numerous rivers crossing. As a result, many villages locating along rivers usually organize regattas on their festive days. The competitions are mostly held in the summer, especially in lunar May and June.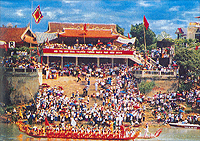 Dao Xa Regatta happens on the large Dao Lagoon. Legends said that one night, there were 2 imperial boats emerging from the bottom of the lagoon. Soldiers on the two boats shouted for joy. Ly Bon thought that enemy attacked. He, therefore, ordered his troops to fight. It was surprise that there was a person on the boat calling herself a water-nymph and saying that she came to help Ly Bon defeat the enemy. As a result, Dao Xa gets used to organizing the regatta at night to sacrifice the water-nymph.

At the third night-watch, the village resounds with tones of drum. On the Dao Lagoon, two boats are dropped down to the lagoon. The two boats sail very fast. These boats are painted with black. Their prows look like heads of dragons. Their sterns are like tails of shrimps. Both prow and stern of the two boats are painted with yellow.

There are 24 holds on each boat, each of which is 1 meter wide. One of the boatmen on the boat should sit on the stern of the boat and he should row very well. A person standing in the middle of the boat drums on a wooden bell to conduct boatmen.

After tones of drums on the bank of the lagoon begin, the two boats should be rowed backward to the starting point and people on the boats should shout for joy.

In Bach Hac village of Viet Tri city, the regatta is held on the 20th of lunar May annually. Bach Hac has 4 cycles of twelve years, namely Tien Hac, Dong Nam, Than Truc and Bo Dau. Each cycle owns a boat differently painted. Tien Hac is blue, Than Truc is red, Dong Nam is white and Bo Dau is yellow. Clothing, flags and oars must be of the same color with the boat. Each boat has 24 holds and is rowed by 48 boatmen and a person drumming on the wooden bell to conduct the boatmen.

In the morning of the sacrifice party, boats sail from the gate of the Bach Hac Communal House to Tho Son ward, Viet Tri city. Afterwards, they are rowed backward to their starting point.

An Dao commune in Thuy Van district holds the regatta in the festival to sacrifice genies like Long Sa Dai Vuong and Ut Soi Dai Vuong. The festival takes place from the 19th to 20th of lunar July.

Nha Mon village organizes the regatta on the 1st of lunar June annually.

Ha Thach commune in Phu Tho town opens the party to sacrifice the water-nymph and holds the regatta on the 9th and 10th of lunar March.
Source: waytovietnam