(Cinet) - The 2012 Coconut Festival themed "Ben Tre on the road to integration and development" took place in the Mekong Delta province from April 5 to 10.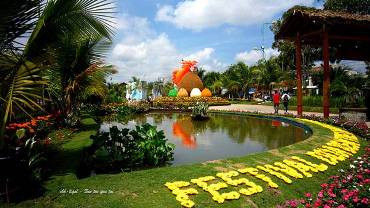 The festival attracts the attendance of Vice President Nguyen Thi Doan, former Deputy PM Truong Vinh Trong, Lao Deputy PM Somsavat Lengsavath and representatives from the US, India and Indonesia.
The festival not only showcases hundreds of coconut products skillfully made by local farmers but also features the unique beauty of Ben Tre province.
Other activities include a trade fair, a street carnival, a seminar on how to increase the value of coconut products and a ceremony to honour coconut farmers, a tour of coconut gardens, Miss Ben Tre Contest and art performances.
Speaking at the opening ceremony of the festival, Vice State President Nguyen Thi Doan said a part from their importance, coconut palms also contribute to environmental protection, climate adjustment and soil erosion prevention.
The Festival provides a good chance for coconut growers to learn experiences and apply technology to improve productivity of coconut palms, advertise the image of coconut palms to the world and seek for foreign investment into the province.
The exciting festive atmosphere and the variety of programmes attracted thousands of domestic and international tourists. The six-day festival honoured the value of coconuts and coconut farmers, while promoting the image of the coconut tree and its centrality to life in Vietnam and particularly in Ben Tre province, to foreigners.
The closing night also featured the establishment of three provincial records in the Vietnam Guinness Book of Records (Vietbooks) and the crowning ceremony of the Miss Coconut Land beauty contest on April 10.