Occupying a prime feng shui spot with a sublime combination of land, water, and wind in southwestern Vietnam, Ha Tien City is one of the most attractive places in the Mekong Delta region.
Every year, thousands of tourists visit the small town which faces the Gulf of Thailand along a 22km-long coastline. Cooling breezes off the sea, river and hills can be felt throughout the day.
This "Jewel of the Delta" has loads of character: bustling markets and languid backstreets, crumbling shophouses and forested hills, delicious street food and local temples, promenading pedestrians and river traffic, and twittering swiftlets and chiming pagoda gongs.
Its physical location, nestled between limestone hills on the banks of a river just before it flows into the sea, is just only part of its appeal.
Ha Tien's quiet, shady back streets and bustling waterfront are intriguing, as well as its abundant history, culture, food, markets and interesting ethnic mix.
Most travellers stop by for a day and night at most, but Ha Tien deserves at least two full days of exploration. The best time to come is in the dry season from November to May.
Once a haven of pirates in the past, Pirate Island off the coast is considered a gorgeous pearl in the sea. With easy travel from Ha Tien by boat, you can visit and enjoy the beaches and sunshine, or join fishermen to catch seafood offshore.
In town, beauty spots include Dong Ho Lake, an isolated site away from urban life, surrounded by coconut trees.
Located east of town, the lake, which covers 14sq.km, is surrounded by mountains and rivers: Ngu Ho Mountain on the right, To Chau range on the left, Giang Thanh River on the east, and Ha Tien River on the west. You can travel on a boat and explore the diverse ecosystem and the beauty of the lake as the moon rises.
Located five kilometres from downtown Ha Tien, another peaceful site is Mui Nai Village, home to the most beautiful beach in Kien Giang Province, with mild waves and sand that tourists use to cover themselves with to absorb its minerals.
Not far from Mui Nai are other beautiful spots such as Rock Cave, Hon Chong and Da Dung Mountains, and Hang Pagoda.
Da Dung Mountain was once a military base for the Viet Nam People's Army. During a climb of more than 3,000 metres to the top, you will see mysterious caves as well as diverse flora and fauna. From the peak, you can behold the great panoramic view of Ha Tien.
Hon Chong Mountain in the south of Ha Tien is surrounded by blue water and ocean waves. According to legend, the father Hon Chong and son Hon Phu Tu together defeated a sea monster to protect their village.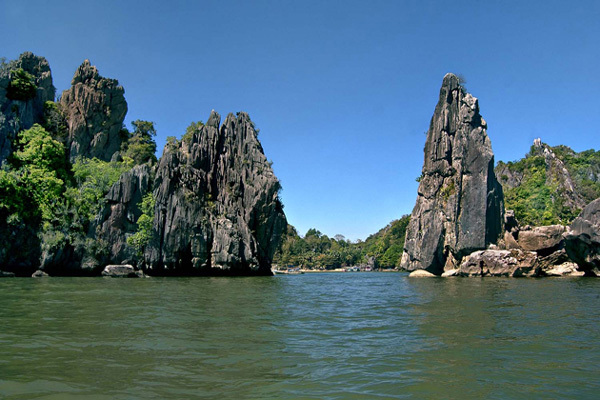 With its beautiful landscape and rich culture, Ha Tien City is a special attraction in the Mekong Delta region.
Hon Chong has stunning beaches such as Bai Duong and Bai Dau as well as an ancient temple called Hang Pagoda. Many people consider Hon Chong the "Ha Long Bay" of southern Vietnam.
Besides natural wonders, Ha Tien has fantastic cuisine. From seafood stalls to street noodle-soup vendors, food can be purchased for reasonable prices throughout the city.
Many of the dishes are based on the culinary influences of the Khmer and Chinese, and contain ingredients from the Mekong Delta regions such as fruits, vegetables and rice, as well as fish from Giang Thanh River and the Gulf of Thailand.
Along the To Chau River, the Ha Tien Market is always bustling with many imported products from Thailand and Cambodia, priced more cheaply than in HCM City. And, along the shore, the fish market, especially in the morning when fishing boats return from their trips, is an interesting place to visit.
For budget travellers, Ha Tien is of good value. Mui Nai beach offers hotels and homestays with a great view of the sea, while excellent mini-hotels and guesthouses have opened all around the city.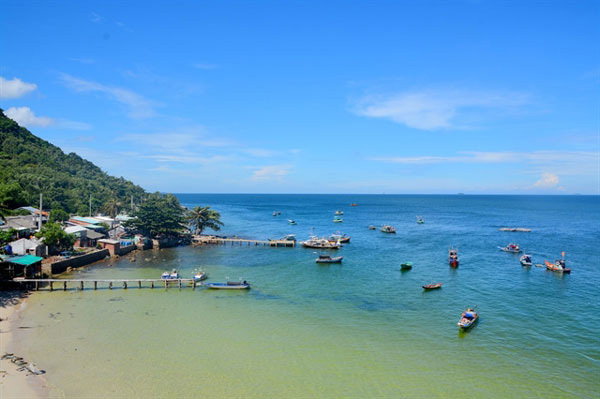 With its beautiful landscape and rich culture, Ha Tien City is a special attraction in the Mekong Delta region. — VNS Photos Van Chau
Regular buses run between Ha Tien and HCM City every hour throughout the day. Tickets are about VND150,000-250,000 (US$7-US$12). The trips takes about seven to nine hours. By air, you can take Vietnam Airlines, which has a daily 40-minute flight between Rach Gia City and HCM City. From Rach Gia City, regular buses to Ha Tien, about 90km away, take about two hours.

Source: Vietnamnet