(Cinet)- Lac village is situated between tall cliffs and is surrounded by bright-green paddies, making it a sight to behold; the beauty of the place is enough reason for many tourists to stay longer than expected.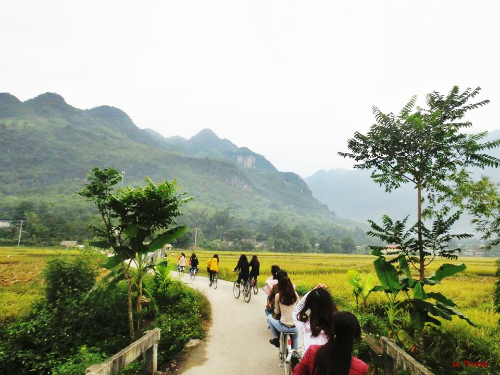 Ảnh minh họa
From Ha Noi, alonging to No 6 National Highway about 100km to Muong Khen Town, then turning right on No 15 National Highway about 46km, through Cun Slope, Thung Khe Pass, Thung Nhuoi Pass and the center of Mai Chau District, tourists will arrive to Lac Village.
According to historical documents, Thai people have settled in Lac Village for over 700 years, including five families of Ha, Lo, Vi, Mac, Loc. So far, the village has more than 120 households with nearly 500 people living mainly by husbandry, forestry, cattle breeding and tourism services.
With beautiful location (backing on the mountain, facing Thung Nhuoi Pass) and unique cultural identity of Thai ethnic people, so Lac Village is an ideal destination in Mai Chau for many tourists. Implementing Resolution of the 5th Central Conference (8th Term) on "Building and developing advanced Vietnamese culture deeply imbued with national identity", Mai Chau District invested to build community-based tourism culture village model in Lac Village.
Tourists to Lac Village are surprised at undiscovered natural scenery, concrete paths and stilt houses named "hotels". Currently, the village has 25 "hotels"with traditional stilt house architecture of Thai people numbered from 1 to 25. Each "hotel" has 2 big rooms and standard toilets.
The village also established an art team to perform Thai folk songs, dances, a cuisine team to process local specialties for tourists; focused on developing traditional crafts such as mulberry growing, silkworm raising; brocade weaving; work instrument manipulating... to use in daily life and sell to tourists.
Thanks to its own culture features, Lac Village is attracting increasingly domestic and international tourists.
Source of photos: Le Thuong, Lam Ha, vnexpress.net