(Cinet)- Mong Cai is a border city in northern Vietnam. Visitors are inspired by its beautiful natural landscape, Tra Co beach, famous sites such as cape Sa Vy, the Tra Co communal house and the Ka Long bridge, and by the local seafood. They are particularly interested in shopping at the Mong Cai Trading Center, one of Vietnam's busiest border markets.
Mong Cai Town lies by the bank of the lovely Ka Long River. It harbors the international Bac Luan Border Gate which connects Mong Cai with Guang Xi Province in China. It is 178 km from Ha Long City, 350 km from Ha Noi. Mong Cai Border Gate Market is where economic and trade activities and cultural exchanges between Quang Ninh and Guang Xi and Vietnam and China take place. It is also the bridge spanning tourist centres of Vietnam and China.
Mong Cai city consists of 16 wards and communes namely Hoa Lạc, Ka Long, Ninh Duong,
Tra Co
, Tran Phu, Hai Son, Binh Ngoc, Hai Xuan, Hai Hoa, Vạn Ninh, Hai Yen, Hai Dong, Hai Tien, Quang Nghia, Vinh Thuc, Vinh Trung. Viet people (Kinh) make up more than 90% of the total population while people of other ethnic groups namely Dao, Hoa, etc. account for 10%.
7 km from Mong Cai by road, Tra Co is a famous tourist attraction in Vietnam. It has a cool and fresh climate and a tranquil and spacious atmosphere. The famous cultural historical sites are mainly located in Tra Co area such as
Tra Co communal house, Tra Co church, Linh Khanh pagoda, Xuan Lan pagoda
. Tra Co beach with 17 km long is one of the most beautiful beaches in Vietnam. Thousands of tourists come to Tra Co every year to bath. Not far from the beach are located 3-4 metres high sand dunes, peaceful fishermen' villages, verdant pine trees, and a rich mangrove ecosystem. - Tra Co Communal House Festival takes place boisterously from the 30th of the fifth lunar month to the 6th of the sixth lunar month attracting a crowd of pilgrims from home and abroad.
The economy structure here is commerce-tourism-fishery. Three areas (commerce area, tourism area and industry area) will be set up according to the overall plan. Mong Cai border gate appears to be a really convenient trading place between Vietnam and China with lots of bustling activities all day and night. The annual number of vistors to Mong Cai is 100 times more than that of its habitants which brings this city a lot of profit.
The market is comprised of three zones; all situated in the sub-district of Hoa Lac, 1 km from the Bac Luan border crossing. There are thousands of households here, almost all of which are bilingual in Chinese and Vietnamese.
Goods traded in the market and exchanged across the border are varied. Chinese goods imported into Vietnam include: speciality fabrics, ready-made dresses, mosquito nets, shoes, sandals, electronics, toys, candies and fruit. Vietnamese goods exported to China are mainly seafood products and agricultural foodstuffs such as tea, coffee and sesame.
Also in the market are traditional northern medicinal ingredient stalls, with Chinese physicians feeling your pulse and writing out prescriptions for the correct medicine.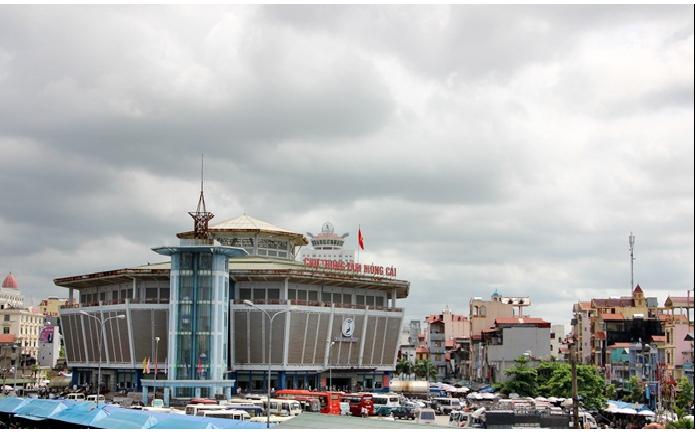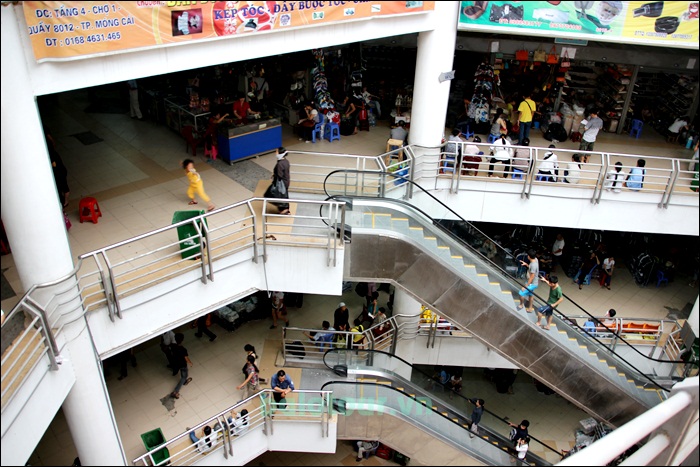 The Mong Cai Border Market . Photo. vovworld.vn
The Mong Cai Border Market has developed not only into a trade centre for the exchange of goods, but also a place for cultural meetings and exchange between China and Vietnam. It is located on the banks of the beautiful Ka Long River; the international border to the Chinese province of Kwang Si. Mong Cai is a place of direct trade and economic and cultural exchange between the provinces of Quang Ninh and Kwang Si.
Previously, Mong Cai was the provincial capital of the former Hai Ninh Province. Following border hostilities between Vietnam and China on February 1979, the township was destroyed, seeing the loss of many economic and cultural traits; in particular the ancient quarter along the Ka Long River. Since 1991, following the betterment of relationships between the two countries, trade exchange at the border has increased substantially.
After shopping, tourists can enjoy Vietnamese and Chinese dishes. Many famous Chinese restaurants offer dishes and wines from famous Mao Dai wine to normal wines: Than Phụ tuu, Khong Phụ Tuu, Ngu luong dich... Chinese specialities: Beijing roasted duck, cay te soya cheese.