(Cinet) - Known as the City of Spring, Da Lat always has a special allure to travelers from everywhere by the fresh air and romantic scenes.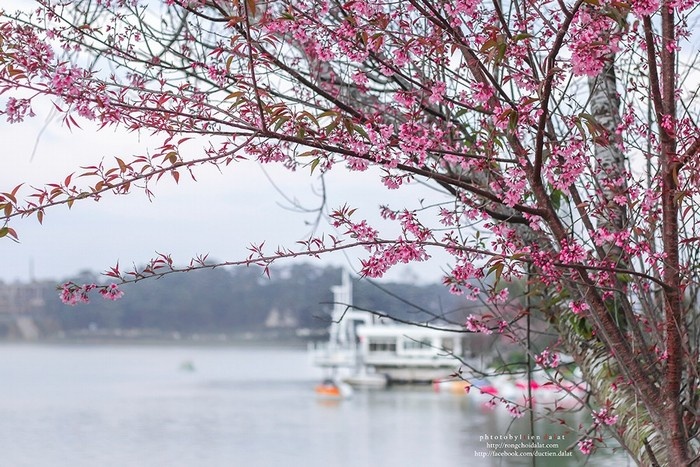 Cherry blossoms by Xuan Huong Lake
A number of people choose Da Lat as an ideal destination perhaps the simple thing that their feelings would be inspired the stroke shimmering, romantic natural landscape, climate's characteristics of this place which they can not feel unless come to this city.
In Da Lat, wildflowers have a strange charm to anybody taking steps in this city. If the carpet of flowers catch of someone' eyes, the wildflowers fascinate by invisible force that many visitors to wander for hours searching for this floral ties. Actually, Da Lat is famous for others by the flowers like Cherry and purple Phoenix, or maybe a romantic flower living on high, with rustle pine trees as Mimosa …
Cherry blossom season in early spring with pink petals brightened a whole angle of sky which grabs at travelers visiting here. At the beginning of the dry season in annual October, cherry blossoms turn to be yellow gradually until falling out left the bare branches and ready to hibernate. The moment that season transfer around mid-January is the time cherry "awakening" to bloom, which gives the signal the spring really comes to the City.
Cherry often blossom out simultaneously and flowers scattered from root to top makes impressive to those who contemplates them. A whole city seems to "wear" a pink shirt, having exotic attraction for the tourists. Cherry blossoms present everywhere in Da Lat but the places where they flourished and became the cherry forest are only in the streets like Tran Hung Dao and Le Dai Hanh Street.
On Tran Hung Dao Street, cherry blooms on the both roadsides, along Cadasa ancient villa. This is also the path that many young people and tourists to take pictures and post to Facebook mostly. Besides, Le Dai Hanh Street in the center of the city, the road along Xuan Huong Lake and Truc Lam are also the places to be for people to find for contemplating cherry blossoms.
Ngoc Anh
Sources of photos: www.vnexpress.net, www.foody.vn