(Cinet) -
Located in Quang Ngai Province, Ly Son is famous for the island owned special geology layer as well as magnificient landscape, interference of sun and sea.
Ly Son is also called as Re isle, including Huge island and Small island. Being far from the land about 25 kilometers, Ly son covers an area of 9.97 kilometers square.
Being established from five huge mountains, used to be five craters of the ancient volcano, Ly son owned special geology layer with magma veins appeared clearly on the cliff. From the geologists' opinion, the island is formed about 25 to 30 million years ago after the seism with mineral extrusion. Until now, there is still five mountain peaks being as evidences of the ancient volcano.
But, Ly Son is popular for internal and external tourists by the magnificient landscape. The island with the high mountains stretched the space in boundless, the heaven and earth is sunk in deep blue of the sea creating perfectly beautiful picture.
Ly Son is a tourism attraction with both internal and external tourists. Besides sinking in crystal sea waves and walking along whole white sand, travelers can sightsee the numbers of tourism places in the island, including Duc temple in the West with stone expanses, the Hang temple and the lighthouse in the East.
Along with fabulous beauty, Ly Son also owned fifty temples, communal house, shrines and memorial area. Among of them, there were three relics recognized as national relics, namely An Hai village communal house, Am linh temple, Hang Temple. The scientists found the flaws belonging to S Huynh culture in Chinh stream as well as the evidences of Cham pa culture.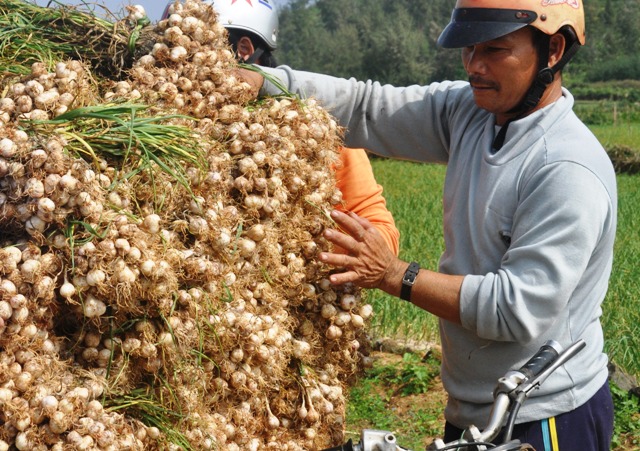 Ly Son - the "Garlic Kingdom"
Ly Son island District is called the "Garlic Kingdom". Garlics planted here have the different taste from the other provinces.
Together with the tourism values, Ly Son is a place stores the historical evidences on sovereignty of Vietnam. More and more travelers choose the magnificient island to learn about the culture, history of the spiritual part of Viet nam as well as mixing with the natural sun and sea beauty.
Ngoc Anh