(Cinet)- With only two weeks to go before the Mid-Autumn Festival, markets are full of people buying mooncakes and colourful lanterns made by local artisans and manufacturers.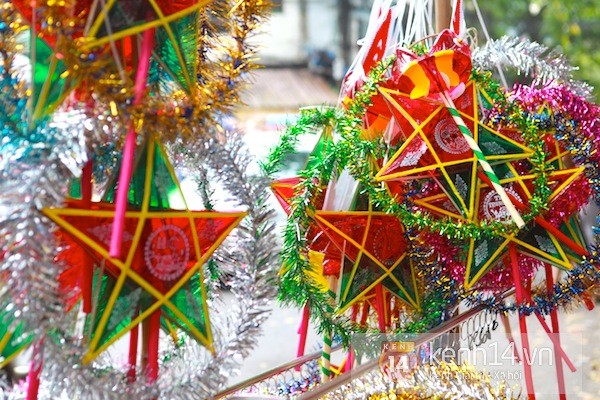 The lanterns can be bought at stores and mobile stalls on streets like Hang Ma, Hang Cot street in Hanoi, Hai Thuong Lan Ong, Luong Nhu Hoc and Nguyen An in District 5, and Le Quang Sung in District 6, and at supermarkets in the Ho Chi Minh city.
According to sales staff in HCM City and Hanoi markets , locally made lanterns have been dominating the market, making up 70 per cent.
They offer a wide range of products, including traditional lanterns made of paper or glazed paper, and electrically powered items made of plastic with colourful bulbs inside that emit music.
They have a variety of shapes, such as stars, rabbits, butterflies and cartoon characters.
Especially in this year, there are new models reflecting patriotism, with images of Vietnamese fishermen and their ships, soldiers protecting the country, including its sea and islands.
Many artisans chose to make lanterns with images of maps of islands, ships and helicopters because children had learned more about the Hoang Sa and Truong Sa islands.
In addition, many artisans has produced electric lanterns featuring Vietnamese mythical heroes like Saint Giong, a young man who chased invaders out of the country and took off into the sky with his horse, and the Trung sisters, who led insurgents to fight northern aggressors 2,000 years ago.
The mid-autumn festival in Viet Nam
Tet Trung Thu (Mid-Autumn Festival), is one of the most popular festivals in Vietnam celebrated in the autumn month that revolve around children. It is a major Southeast Asian festival, traditionally held on the 15th day of the 8th lunar month. According to ancient folklore Vietnamese parents try to make up for the lost time with their children during the harvest time, by celebrating the Mid-Autumn Festival to show their love for their children.
On this day, the weather is cool and the moon takes on a reddish glow and is the brightest and roundest in the year. The festival involves the custom of moon contemplating, procession of lights, lion dance and eating mooncakes and fruits. Under the silvery moon, children carry beautifully ornate lanterns made by their parents, while singing and parading on the streets. These lanterns are made in different shapes and sizes like fishes, stars, butterflies and the spinning ones where candles can be inserted representing the earth circling the sun.
One important event before and during Vietnamese Mid-Autumn Festival are lion dances. The dances are performed by both non-professional children group and trained professional groups. Lion dance groups perform on the streets go to houses asking for performing. If accepted by the host, "the lion" will come in and start dancing as a wish of luck and fortune and the host gives back lucky money to show thankfulness.