(Cinet)-Tet Vietnam
is the most special occasion and the most expected holiday of any Vietnamese people. People of Vietnam strongly believe what they do and feel during Tet will follow them in the rest of the year. People in the North and the South of Vietnam have different ways to celebrate Tet. Cinet introduces some characters of the Tet in the North, Vietnam.
1. "Hoa dao" – A special flower of the Northern Vietnam on Tet
The peach flower plant grows only in North Viet Nam. It is the special flower of the Vietnamese New Year because of its red colour, which is believed to bring many favourable opportunities throughout the year.
Hoa dao represents Tet in the northern Vietnam as its pink colour brights up the somber atmosphere of the northern winter.
Northern Vietnamese people prefer reddish-pink or pink blossoms because those hues are harbingers of good fortune. Intensely colored peach blossoms, called hoa dao, are favored by northerners. They blossom in spring, during Tet holiday while most of other flowers still stay silent. Therefore, it's considered the symbol of the strong vitality and a brave heart. Moreover, the pink color of peach flowers is believed to bring the love, joy, and happiness among people in this special moment of the year.
There are four varieties of peach flowers. The dao bich has a deep rosy colour and the plant bears many flowers; it is usually planted in jars or pots for entertaining during the New Year. The
dao phai
(pale peach flower) flower is a pale rosy colour and the plant bears many flowers, but is generally planted for its fruits. The
dao bach
(white peach flower) is relatively difficult to grow. These three varieties of peach flowers all bear double flowers. The
that thon
plant is small and low; the flowers are small and of many colours.
Among those colours, those that are deep red are generally grown in pots and their trunks and branches generally bend so that it becomes an ornamental plant. The springs of the peach flowers from the of Nhat Tan are a precious gift sent to relatives living in the South on the occasion of the New Year. The peach flower plant and its flowers are now present in many European countries.
2. Custom of the five‑fruit tray
One theory says that the five fruits are symbolic of the five basic elements of oriental philosophy - metal, wood, water, fire and soil. Other theories regard the tray as symbolic of the fruits of a family's hard work throughout the past year, which are consecrated to heaven and earth and their ancestors as sign of respect and gratitude.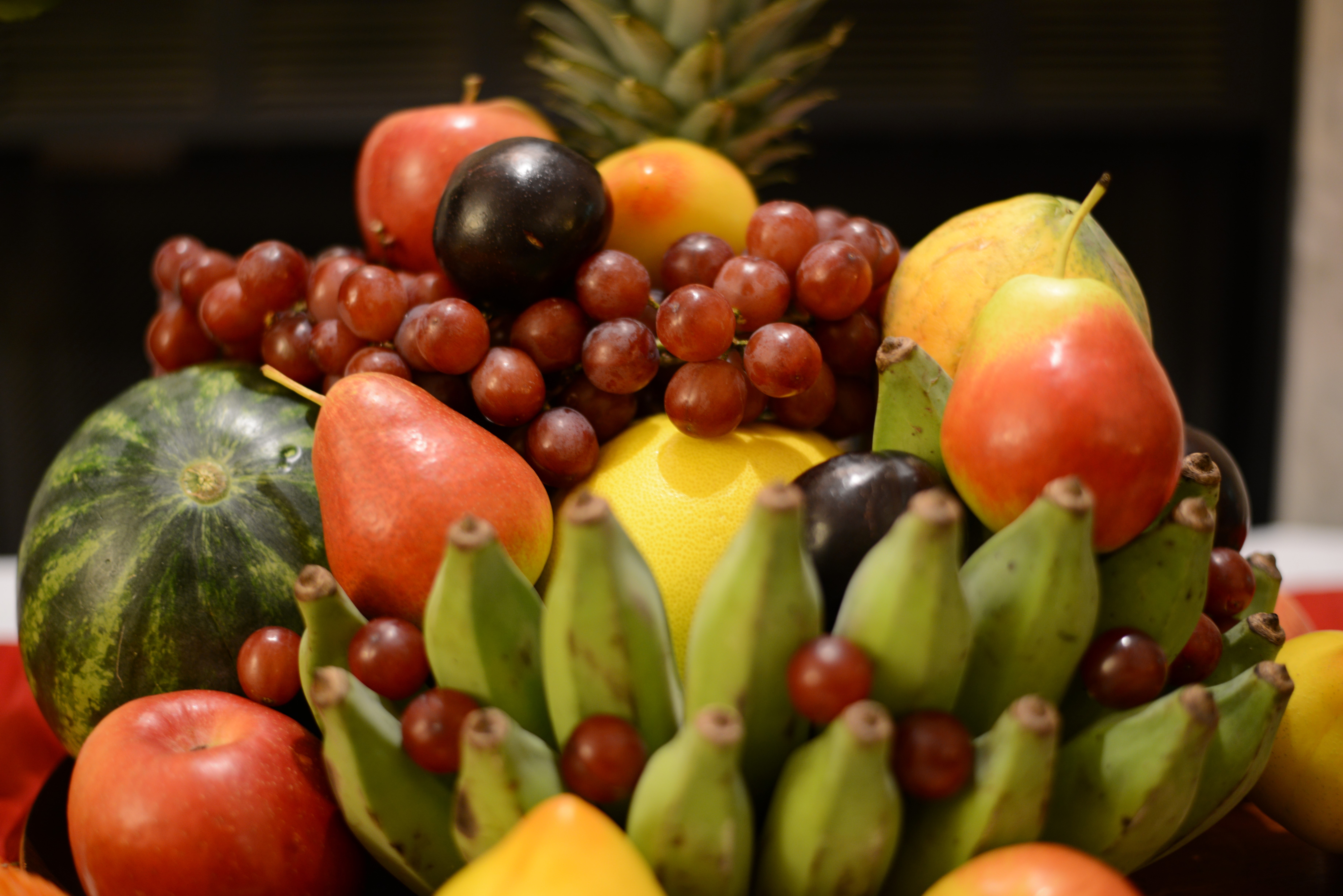 A fruit tray. Photo: Internet
A five-fruit tray, though varying from one region to another due to differences in climate and fruit crops, light up altars with their ample colours. In northern areas, five-fruit trays ornamented with pomelos, peaches, kumquats, bananas and persimmons are relatively smaller than those in southern areas. Improvements in people's living conditions in recent years have led to a greater sophistication in choosing fruits for the altar for the Tet holiday. A tray may contain more expensive, rarer fruits like grapes and pears, but all in all it is still a five-fruit tray, a nice offering of the Vietnamese people to their ancestors. It not only displays a life-long tradition but also sends a message of hope for happiness, good luck and prosperity for the new year.
The custom of displaying the five‑fruit tray as votive offerings at the holy place of the house has been reflected in many popular legends and tales. It has originated from ancient popular beliefs observed from one generation to another in their worship towards their forefathers. To this day, the Vietnamese still observe a long‑standing custom of placing the first ripe fruits harvested from the home garden on the altar and burning incense sticks in memory of their ancestors.
The "Mam Ngu Qua" in Tet festival represent the quintessence that Heaven and Earth bless humans.
3. Some foods on Tet, the Northern Vietnam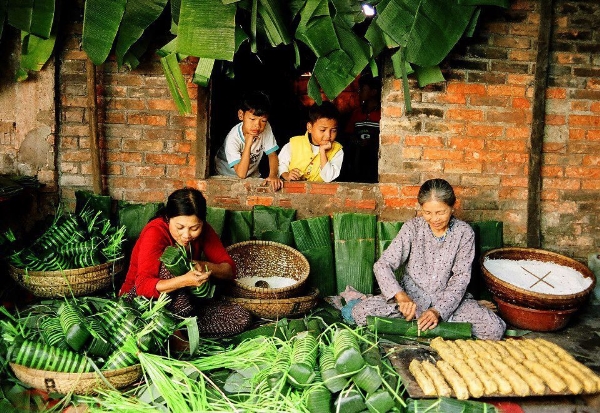 "Banh chung" - An meaningful food on Tet.Photo:Internet
Lunar New Year is the biggest event in Viet Nam each year. It is the time for people to reunion with their families.
"Banh Chung" is the traditional sticky rice cake in Viet Nam. If you want more information about this cake, you could read my other post which is about "how to make Banh Chung". The video link below is to show you how to make Banh Chung.
A caramel sauce dish
- These dishes, called kho in Vietnamese, are terrific must haves for Tet. In the south, it's fatty pork leg, eggs and coconut water. Stewed pork riblets are excellent and so is a kho made with beef drop flank and ginger. These dishes can be prepared days ahead, which explains why kho (salty simmered/stewed meat dish) dishes are present at traditional Tet celebrations. If meat isn't your thing, then cook shrimp or fish in caramel sauce.
Viet cold cuts
- Here's another convenient food for the holiday. These cold cuts can be purchased at Vietnamese markets or delis. If available, get some gio thu (headcheese), gio bo (silky beef and dill sausage) and cha mo (steamed pate of pork and lardons that's fried to a crisp in the end). Gio lua (basic silky sausage) is also good and to eat, you can buy some banh day, steamed sticky rice flour discs on banana leaves; banh day look like hockey pucks and are sold in Viet markets and delis too. Put a thickish slice of gio lua or cha mo in between the two banh day and dip it into a little fish sauce (thin it out if it's too salt for you).
Pickles
- Those cold cuts need and accompaniment like a pickled shallot or leek -- both are often sold in plastic bins in the produce section of a Viet market. Small white pickled leeks are also sold in small cans at Chinese markets. These members of the onion family are meant to help facilitate digestion of all the rich meats eaten during Tet.
Nuts and candied fruits -
At the markets you'll find a wild assortment of brightly colored candied treats such as coconut, melon rind, and lotus seed. Also, watermelon seeds are also eaten during this holiday. Pick up one of these assortments for a fun nibble. They're typically a bit insipid I have to admit. But price dictates quality with regard to Asian food products, so spend a little and you'll be well rewarded.
Pickle and "Banh chung" are two foods without lacking on Tet occasion in the North, Vietnam.