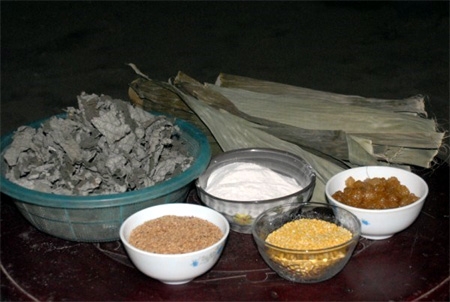 Ingredients to make gai cakes.
(Cinet)- The Tay and Nung ethnic minority groups in northern mountainous province of Cao Bang are celebrating their traditional Pay Tai festival on August 28 to honour their mothers' love and sacrifices.
The annual festival took place on the second and fifteenth day of the first and seventh lunar months as a chance for family relatives to reunite and enjoy traditional local dishes together.
The Tay, Nung ethnic groups concept that women after being married together with their husband and children all year to work and look after the family at home and take responsibility for worshiping her husband's ancestors. Therefore, the full moon day of July is an occasion for the woman and her husband to return to the parents-in-law's house to take care of them.
This is also an opportunity for their husband demonstrates their gratitude to the parents-in-law for struggling to give a birth and caring for their girl that they got married to.
On this occasion, the woman in Tay, Nung ethnic groups and their husband prepare thanksgiving ritual ancestors. The Tay and Nung have also religious worship on Wandering Soul's Day on the occasion of the full moon in July with all procedures and ritual worship like the Kinh.
Tay and Nung ethnic people often prepare gifts for their parents with a pair of fat ducks, a dozen of gai cake (glutinous rice cake dyed black in a concoction of leaves). The whole family gather around a warm tray, enjoy the cuisine of local specialties. The food indispensable during the full moon of July in Cao Bang is roasted duck combined with white rice noodles, cooked duck meat soup with bamboo shoots.
The festival aimed to celebrate the current crop harvest and pray for fruitful future crops.
For most Vietnamese people, the fifteenth day of the seventh lunar month was also a time to celebrate the Vu Lan (Parents' Day) festival and remember their ancestors.