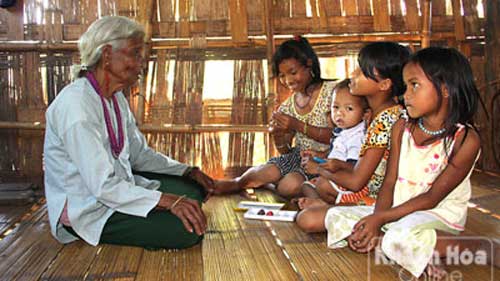 Illustrative image
(Cinet)- Raglai epics are a narrative genre which makes voices orally through some generations. The Raglai epics has kept their position in the and spiritual and cultural life of Raglai people.
The Raglai have a treasury of epics.The Raglai people in Ninh Thuan province definitely had epics so he submitted my request to do some research, and the cultural leaders of the time allowed him to begin his search for Raglai's epics.
Raglai epics are long narrative poems recounting the deeds of heroes like Udai Ujac, stories of men turned-beasts like Ama Chisa – Ama Cuvau Vongcoi, and brave women like Awoi nai Tilor fighting the genies of the forest and sea to protect people. The stories contain imaginary figures or real people capable of doing extraordinary things.
"Uya-Yuhea" and "Sa-Ea" are two major epics of the Raglai people.Every Raglai epic features a prophet, who protects the villagers and tells them how to farm as well as providing them with moral lessons about love, friendship and ethics.
The Raglai epics are works of art that reflect real life. For example, the Ama Chi Maja epic features a brave, young man, Chi Maja, who chases away wild beasts to protect the villagers and teaches them to fight invaders.
When epic storytellers immerse themselves in an epic, they change their tone of voice to match the content, from a monotone to a very high tone, to a deep bass, to a mysterious whisper that echoes the voices of their ancestors.
In a trance, they act out events such as a fight in the village or forest. Every epic storytelling is a fresh creation which is never the same.
Storytellers use folk singing genres such as the Siri and Majeng melodies with which Raglai mothers lull their children and tell them stories. The lively, joyous Adoh melody is used at community get-togethers and festivals.
An elderly woman named Kato Thi Sinh recounts the Udai epic, one of the two longest Raglai epics about war and love. At the age of 60, she knows by heart the epic which takes her a day and a night to tell. Sinh says she learned epics when she was 7 or 8 from her mother.
In Son Binh commune, Khanh Son district, 90-year-old Mau Thi Dien is famous for knowing many epics and being the oldest Raglai storyteller. She can tell several epics in one week.
Kato Thi Sinh and Mau Thi Dien contributes to relive Raglai epic poems.To preserve the epics, people have recorded several epics and transcribed them and organized some teaching classes to teach the epics for children.