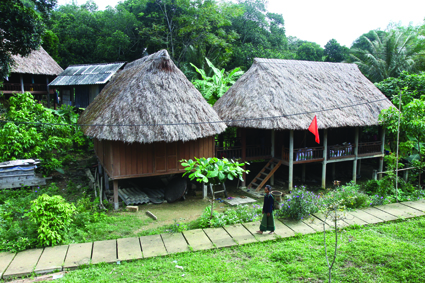 Stilt houses of the Bru-Van Kieu
(Cinet)- The Quang Tri provincial Department of Culture, Sports, and Tourism has upgraded 16 stilt houses of the Van Kieu in Kalu hamlet in Dakrong district. It is an effort for preserving their stilt houses in the Van Kieu.
Many Van Kieu's traditional values and customs including their stilt houses have been affected by modern life.
Stilt houses are old. Their wooden or bamboo-frame house was often roofed with rattan leaves.
In recent years, they use corrugated iron or fiber cement boards to roof their houses. They are now very happy to have a stilt house made of natural materials just like before.
In order to preserve the traditional cultural characteristics of ethnic minority groups, the Department of Culture, Sports, and Tourism of Quang Tri province has invested in repairing 16 stilt houses, each at a cost of US$1,500 to US$2,000 and was repaired by the local Van Kieu.
After restoring the stilt houses, the Project on sustainable tourism development in the Sub-Mekong region is building a number of public guesthouses and an observatory in Kalu hamlet.
Patriarch Ha Van Hum said roofing is the most difficult part. In the past all Van Kieu men could make the roof, now only a few old men can. He said the project has preserved the Van Kieu traditional houses and taught young people a craft of their group. "In the past we made stilt houses by ourselves. Now we have to restore our traditions to introduce to foreign tourists."
The stilt house of the Van Kieu is small and has rooms for parents, couples, and children. Sleeping rooms are on the right side and the living room is in the center. The high sloping roofs are made of bamboo and covered with rattan leaves. In front of the house, they arrange a water floor (entrance hall), a stair is arranged at front place, normally arranged on the right of the house, in which it is arranged at least 2 fires, one kitchen at the middle of family's living space (on the right), placed at the central of living room and worship place (on the left). The accommodation is always located on the right of the house. Bru – Van Kieu house roof usually has large slope, thatch roof, roofing form made of bamboo, neohouzeaua and is completed from below, then installed.