Ha Thanh, a community-based cultural tourism village in Phuong Do commune, Ha Giang province, has preserved several traditional stilt-houses of the Tay. The stilt-house reveals several cultural and spiritual values of the Tay people.
Ha Thanh village has about 100 stilt-houses clustered in the foothills. Each stilt house is like a small museum showcasing one family or clan. Nguyen Thi Dien and her family live in a stilt-house built by her parents. Dien said they are used to living in this house and don't want to move anywhere else. "
My husband and I have just repaired the stilt-house. The villagers helped us cut trees in the forest to upgrade the house."
To build a new stilt-house, the villagers have to prepare wood to make pillars, beams, and floors and prepare palm leaves for roofing. Villager Nguyen Thi Hoe said: "
We had to prepare materials for nearly 10 years to build this house. We used ironwood and oak. It's our traditional way of building a house that we have upheld for generations."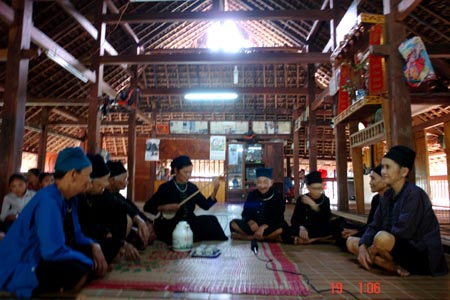 Tay people gather to sing Then songs (photo: dulich-hagiang.com)
The skilled woodworkers use neither nails nor steel. They use tenon and mortise joints to make a house. They use more than 1,000 palm leaves to roof the house. A Tay stilt house is about 2 meters above the ground, which is high enough to avoid wild animals. Whenever a family builds a house, their relatives and fellow villagers give them a hand. "
It takes about 3 days to cut enough palm leaves. We tell the village chief about the work and he writes on the notice board to inform the villagers. They come to help without being asked directly. The house's owner prepares a meal to thank the helpers. It's our tradition. We used about 1,100 palm leaves to make a thick roof which is durable and can resist hailstones. We can use it for 30 years."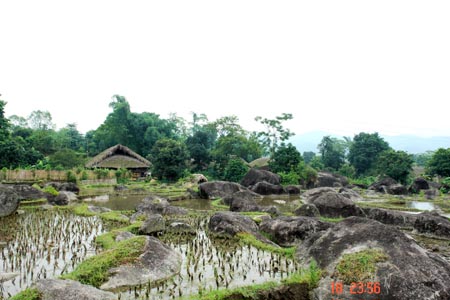 Terraced rice fields in Ha Thanh village (photo: dulich-hagiang.com)
A stilt house is divided into many spaces for different purposes. The center is the default space for the ancestral altar and the surrounding areas are for eating and sleeping. Hoe said: "
A Tay stilt house doesn't have sleeping rooms. We separate the sleeping area by using curtains or partitions. You can't see in from the outside, but we can see out from the inside. My family of 7 people lives together."
A Tay stilt house has a 9-step staircase, 9 being a lucky number to ensure the boys and girls of the family will be able to get married. The house's owner greets guests at the foot of the stair and always walks behind guests on the stair to protect them.
Source: VOVworld