Portal provides useful information about central province and city of Hue to local and foreign tourists.
In Vietnamese, English and Japanese, the portal provides tourists with reliable and useful information on the province.
Visitors can learn about the rich history, culture, and heritage of the former imperial capital of Hue and other local sites.
Must-see destinations are introduced in various categories, such as relics, landscapes, culture, garden houses - a typical feature of Hue - and popular tourist sites like the palace, the emperors' tombs, temples, and pagodas.
Hue's diverse cuisine is included, such as royal dishes, local food, vegetarian, and street food, bringing a rich menu for visitors to discover dishes that are well-known around the country that used to be offered to emperors, queens, and other members of the royal family in olden times.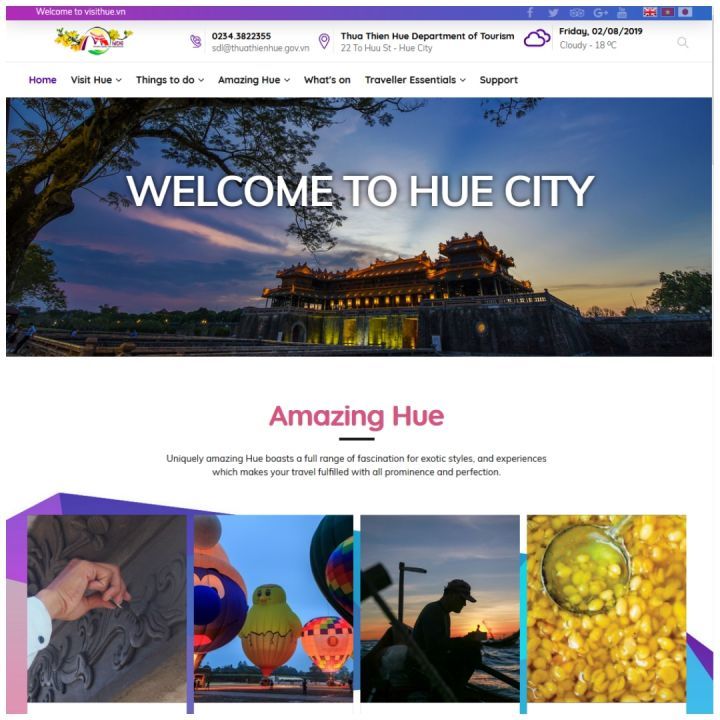 A list recommends tours, accommodation, transportation, restaurants, and shops. There is also basic information on the weather, the best time to visit, and other tips for tourist to fully prepare before their trip.
The tourism portal also has news and upcoming arts and entertainment events in the province and provides a code of conduct for tourists, including Dos and Don'ts, so they show appropriate respect to local customs and culture and environmental protection.
Established as the capital of a unified Vietnam in 1802, Hue was not only the political but also the cultural and religious center of the country until 1945 under the Nguyen Dynasty, Vietnam's last. The Complex of Hue Monuments features a range of architecture from the Nguyen Dynasty, such as the Imperial City (Hoang Thanh Hue), including the famous High Noon Gate (Ngo Mon), the tombs of the Nguyen emperors (Gia Long, Minh Mang, Thieu Tri, Tu Duc, Dong Khanh, and Khai Dinh), and monuments, temples, and pagodas. The Complex of Hue Monuments became a UNESCO World Cultural Heritage Site in 1993. Hue also has beautiful beaches and a rich culture of royal cuisine and street food.
Thua Thien Hue province welcomed some 2.5 million visitors in the first half of this year, including over 1.1 million foreigners, up 5.1 per cent and nearly 10 per cent, respectively, against the same period last year, according to the Department of Tourism.
(Vietnamnet)