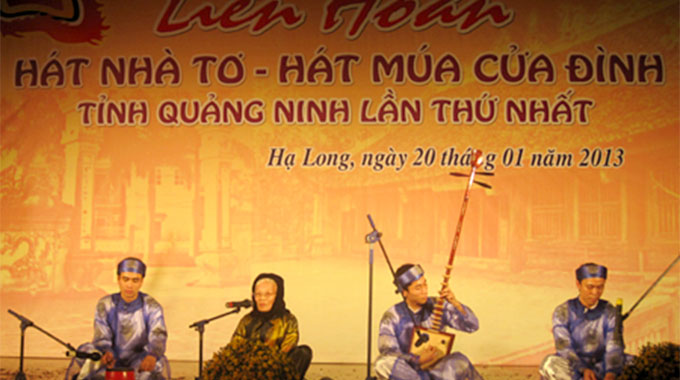 Illustrative image(Source: internet)
(Cinet)- "Cua dinh" folk singing also called "nha to" folk singing in Quang Ninh province is one aspect of the Vietnamese people's unique culture. The Ministry of Culture, Sports and Tourism has recognized the folk singing as a national intangible cultural heritage.
"
Nha to
" or "
Cua dinh
" folk singing is usually performed at spring festivals in Quang Ninh province. This folk music genre is now popular only in Van Ninh, Quang Nghia and a few coastal communes of Van Don, Hai Ha, and Tien Yen districts.
The performance takes place in front of a communal house to honor the genies and national heroes who made great contributions to national construction and defense and to pray for peace, health and bumper crops.
"Cua Dinh" folk singing is a genre of ceremonial singing which is the original form of Ca Tru folk singing. The music genre includes singing, instrument playing and dancing and is performed in the front yard of the communal house or at the family. But it's different from Ca Tru folk singing because it's accompanied by incense, flower and candle offerings to the genies and because it only takes place at spring festivals. The songs are passed down from parents to children.
"
Cua dinh
" artists sing and dance at the same time and the performance is accompanied by drumming to stir up excitement. Each Cua dinh group comprises 5 artists - a person playing a 3-string guitar, a drummer and 3 singers.
After singing prayer songs, artists can improvise to show off their talent and knowledge. Their songs often contain lessons about loyalty, morality, faith and friendship. The songs also reflect the panorama of society and culture in the coastal communes of Quang Ninh province.
According to ancient documents, there were two troupes of Cua Dinh singers in each district from the northern provinces to Thanh Hoa, Nghe An and Ha Tinh province. These troupes usually performed in front of local communal houses. They sang at worshiping ceremonies for village genies.
The singing was famous before the August Revolution in Kinh-inhabited areas in the northeast, especially Van Ninh commune in Mong Cai city, Van Hoa commune in Van Don district, Dam Ha commune in Dam Ha district. The name "nha to" or "cua dinh" singing depends on the different performing spaces. Cua Dinh singing used to be a popular music genre among the Vietnamese people. In the 1950s, for various reasons, it disappeared from the traditional festivals of rural villages.
Quang Ninh province is carrying out a project on making traditional art performances into tourism products, including the arts form.