With seven Cham towers listed as Vietnam National Heritage, Binh Dinh is an attractive destination for visitors who are interested in discovering the mysterious Cham culture.
Thap Doi (Hung Thanh Tower)
Thap Doi's architecture style is said to reminiscent of Angkor Vat due to Khmer influence. This might be the result of two Khmer occupations in Champa – the first in the middle of the 12th, and the second at the beginning of the 13th century. Situated in Quy Nhon City, the two towers of Thap Doi have curved pyramidal roofs rather than the terracing typical of Cham architecture. The larger tower has one main door and three false doors, facing the cardinal directions. The dismembered torsos of garuda (griffin-like sky beings that feed on naga, or divine serpents) can be seen at the corners of roofs of both towers. In 1980, Thap Doi was listed as a National Heritage.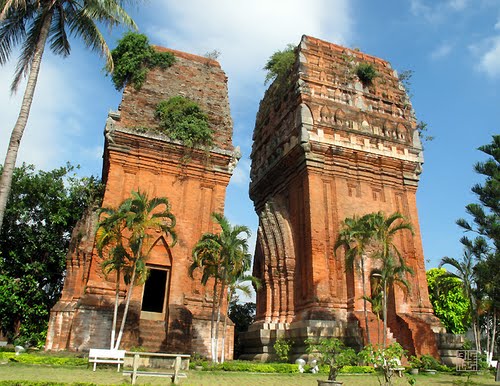 Hung Thanh Tower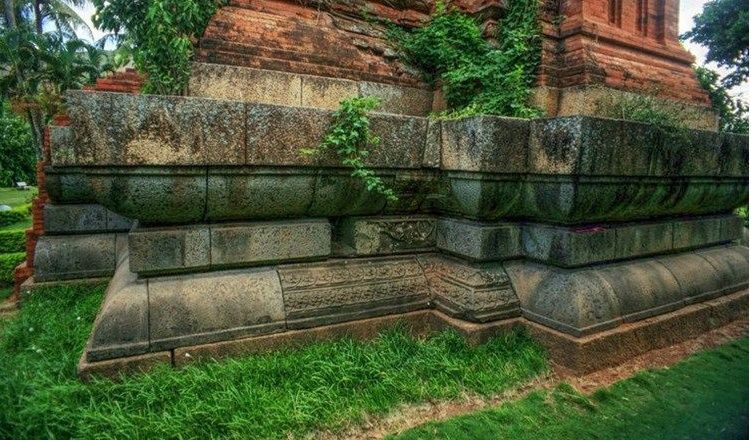 Tower's base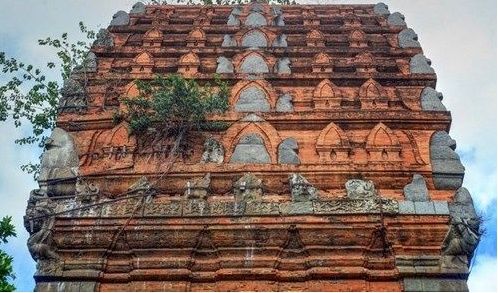 Canh Tien Tower
Canh Tien tower is located inside the ruined Do Ban citadel at An Nhon district, Binh Dinh. Built in the 12th century, it is one of the towers of typical Binh Dinh architectural style. One of the different features of Canh Tien is that its pilasters and edges of the roofs are built of sandstone. The tower is 20 meters high with four storeies. At the four corners of each storey are stone motifs of phoenix tail. In the distance, the tower looks like the great and beautiful wings of a fairy. Canh Tien is listed as National Heritage in 1982.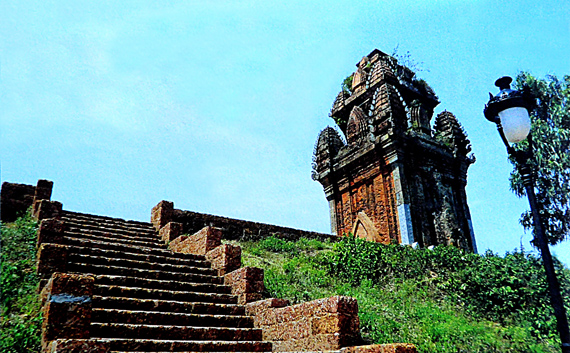 Canh Tien tower is located inside the ruined Do ban citadel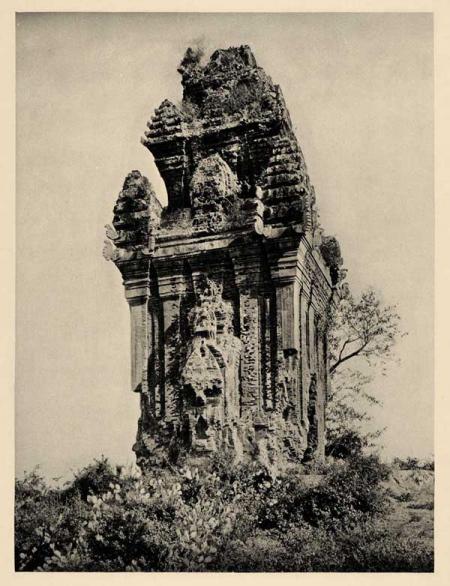 The tower in a black and white photo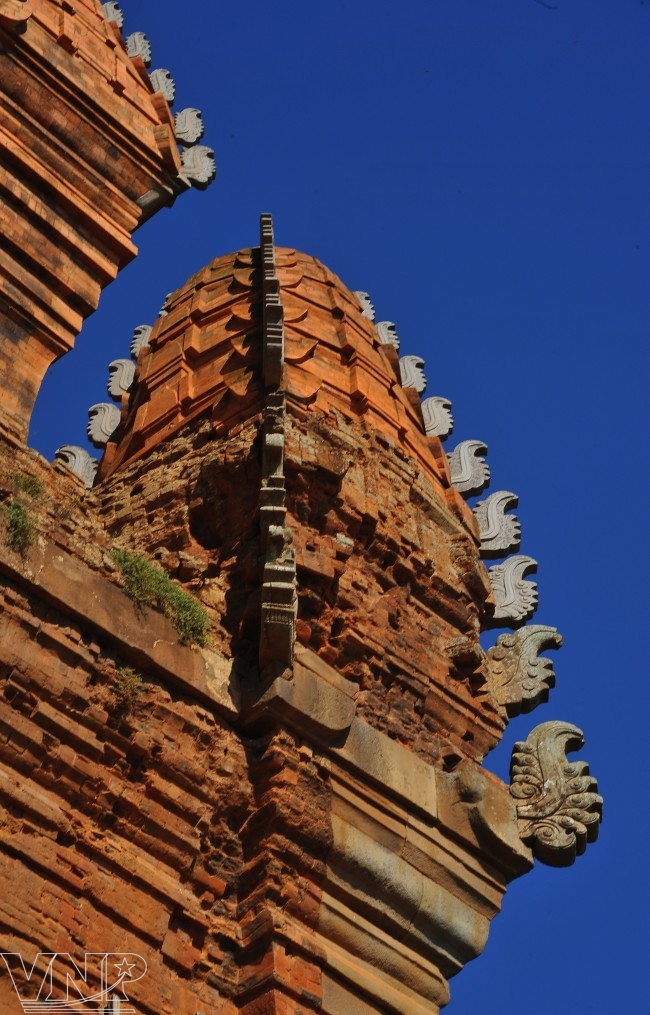 The stone motif of phoenix tail (Photo: Quang Minh)
Duong Long tower (Ivory Tower)
Situated about 50 km north-west of Quy Nhon city, Duong Long tower is a group of three towers dating back from the late 12th century. The center tower is 42m high and the side tower is 38m high each. The ground plan of the towers, the rounded silhouette of their superstructure and their elaborated ornaments are said to be heavily influenced by the Khmer style of Angkor Wat and Angkor Thorn in Cambodia. Duong Long is often regarded as one the most beautiful Cham towers in the central Vietnam. It was listed as National Heritage in 1980.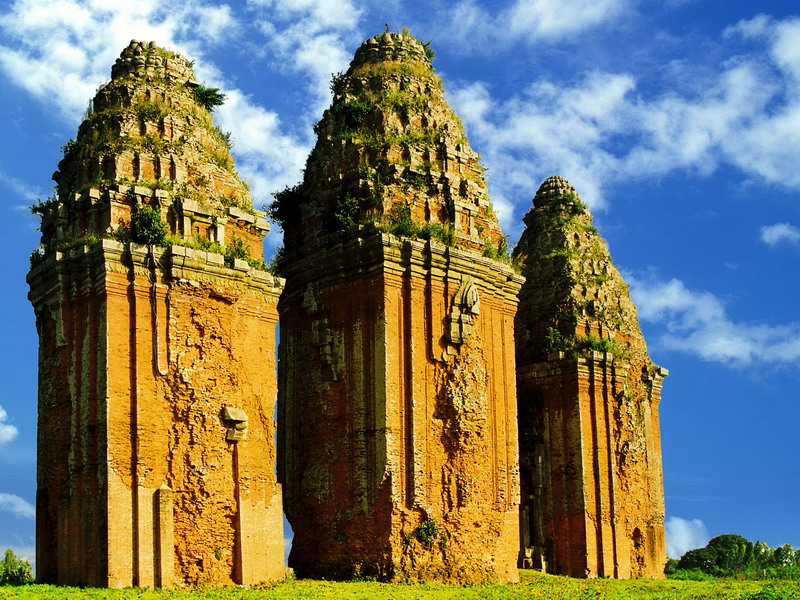 The group of three towers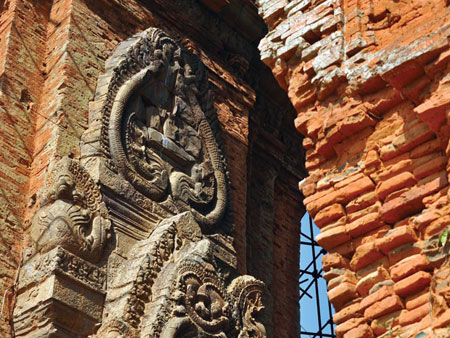 Thu Thien Tower
Like other Cham towers, Thu Thiem has a square-plan including its base and three stories. The outer walls and the three stories are decorated with small pyramids. Thu Thiem's pilasters are sleek, plain and do not have any patterns. Situated 35km of north-west Quy Nhon city, the tower is listed as National heritage in 1995.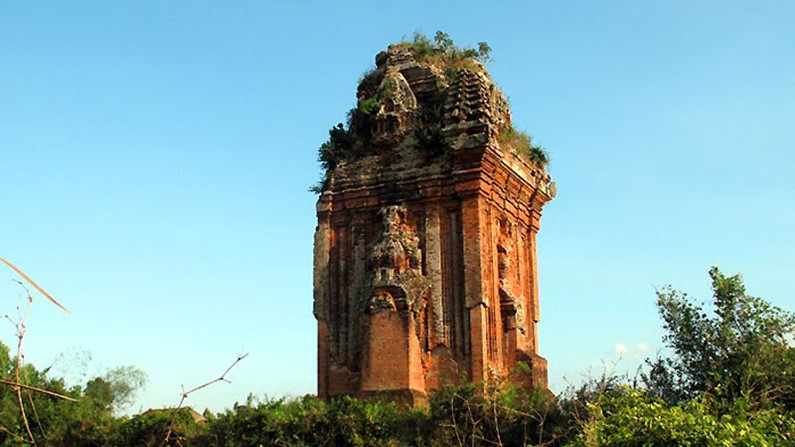 Thu Thiem tower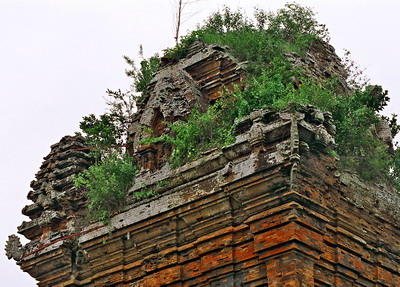 PD