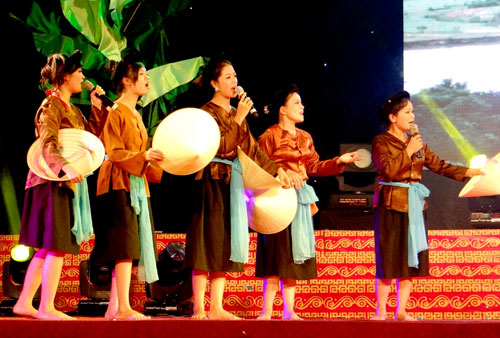 Illustrative image
(Cinet)- Vi and Giam singing, two folk singing styles of locals in Vietnam's central provinces of Nghe An and Ha Tinh recognized by UNESCO as an intangible cultural heritage of humanity on November 27, 2014 in Paris (France) was a gift for people
on the North Central Coast of Vietnam.
Vi and Giam folk songs are strongly attached to lifestyles and customs of Nghe Tinh people. They have a powerful vitality in contemporary life and have long been handed down, transmitted, preserved and promoted. Vi and Giam folk songs are an artistic medium for expressing the ideas and spirit of the Nghe Tinh people at the same reflecting truthfully changes in social life.
Besides, Vi and Giam folk songs also contribute to educating traditional moral values including respect for parents, loyalty, care and devotion, call upon the people to oppose oppression and injustice. Joining in Vi and Giam folk singing is the opportunity to strengthen community coherence.
Vi and Giam folk singing is the open space for everyone, regardless of their age, occupation and religion. Performances are undertaken to ensure equality and mutual respect among communities, groups and individuals and contribute to sustainable development of society.
Vi-Giam singing is named as melodies arouse from daily life work. The lyrics use the specific dialect and linguistic idioms of the central region, making them easy to remember and to sing. The songs focus on social and historical issues, philosophy about life and virtues, as well as the love for life, patriotism and love between men and women. There are 15 tunes of
Vi
and 8 airs of
Giam
, which were named based on the context or the places when the songs were sung. UNESCO made its official announcement honouring the singing as an intangible cultural heritage of humanity during the 9th session of its Inter-governmental Committee for the Safeguarding of the Intangible Cultural Heritage in Paris on November 27.
These types of folk singing have been practiced in nearly 260 villages in the central provinces of Nghe An and Ha Tinh, where 51 Vi Giam singing clubs with over 800 vocalists have been established to preserve and promote the art forms.
Today
Vi
and
Giam
are commonly performed at cultural events, festivals, community spaces. They are also adapted to songs or operas and brought to theatre stages.
Vi-Giam
singing helps increase sharing and exchanges among the community, thus consolidating the community's members. Vi-Giam folk singing has an extremely strong vitality. It not only existed in the past but has constantly developed in the hearts of people in Nghe An and Ha Tinh provinces (Nghe Tinh). That's why people in these provinces have a famous saying, "only when people here no longer have their voice will Vi-Giam folk singing be lost."
Vi- Giam are the ninth Vietnamese cultural practice to receive UNESCO's intangible heritage status. The vitality of vi giam folk songs is reflected in their popularity, from lullabies to fishing chants. These folk songs are often sung with the accents of people in the Nghe An and Ha Tinh regions.
Vi Giam folk song recognition by the UNESCO
Due to its strong attachment to the people's lives,
Vi-Giam
lyrics are also records of the Vietnamese people's past, from their uprising, national resistance wars and their cause of building peace, Loan said.
For its treasured values, a series of safeguarding measures have been taken, including raising awareness, education and promotion with the financial support of the State and local authorities, aiming to ensure the viability of the practice, indicating the will and commitment both of the authorities and of the communities to safeguard it.
The folk music is a back-and-forth sung while working, unaccompanied by musical instruments. It reflects the work, cultural life and feelings of the locals in the central coastal provinces.
The country committed to implementing an action program to preserve Vi - Giam singing, carrying out policies to honour veteran singers and intensifying communication campaigns to educate young generations on this type of art.