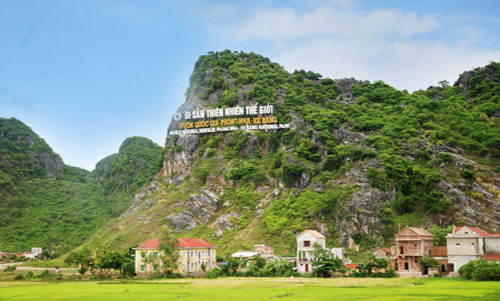 Phong Nha-Ke Bang National Park
(Cinet)-The
Phong Nha-Ke Bang National Park, which boasts the high-profile Son Doong Cave, is looking officially to recognize as a world heritage site on the 39th session on July 03 in Germany.
Accordingly, Phong Nha - Ke Bang National Park contains a complex karst area dating from the Paleozoic era, which makes it the oldest in Asia. The site has high geodiversity and many geomorphic features such as underground rivers, dry caves and sub-aerial stromatolites. This makes it of very great importance for increasing the understanding of the geologic, geomorphic and geo-chronological history of the region.
The Phong Nha - Ke Bang National Park is expected to welcome around 650,000 tourists, including 55,000 international visitors by 2020. It is forecast to receive 1,350,000 tourists, including around 55,000 international visitors by 2030.
According to the IUCN, the biological diverse corridor, which connects the Phong Nha - Ke Bang National Park to other natural areas in the Central region, will be founded and controlled along basin of the Son, Ranh and Nhat Le rivers.
The site consists of two parts: Phong Nha Nature Reserve and Ke Bang forest. The area is noted for its Phong Nha and Vom cave systems. They are composed of 300 caves and grottos with a total length of about 126 km, of which only partly have been surveyed. The cave system has one of the world's longest underground rivers.
Some 92% of the park is covered by tropical forest, 92.2% of which is primary forest. Activities of handicraft production, mining, business and population development will be controlled in the buffer zone, especially at the Thuong Trach, Cha Lo border gates and along the banks of the Son river.
A preliminary report by the provincial Department of Culture, Sports, and Tourism revealed that the numbers of domestic tourists and foreign visitors to Quang Binh has increased 1.5 and 3 times respectively so far this year, compared to the same period last year. Following the live coverage of the American Broadcasting Company and National Geographic Magazine's dizzying 360-degree photo essay on Son Doong Cave last month, local travel firms reported a soar in the number of tourists who inquire about expedition tours to the grotto.
As known, the second recognition is based on the park's stunning biological diversity and resplendent landscape. The park first earned the coveted honor in 2003 for its astounding geological and geomorphologic values.
Recognition from the world heritage committee affirms a diversity and total beauty of natural heritage here and praises some efforts from the Vietnamese Government, the Vietnam's UNESCO, Quang Binh province and Management Board of the Phong Nha Ke Bang National Park. The World Heritage Committee highly appreciated awareness and responsibility of Vietnam in a progress of preparation and protection of the Document.