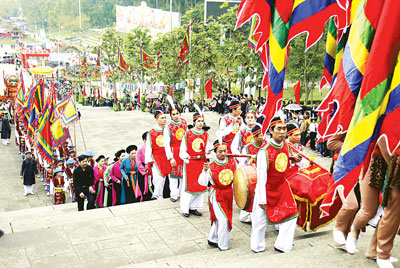 Illustrative image
(Cinet)- (Cinet)-The worship of Hung Kings memorizes the same origin "Dragon's children and Fairy's grand-children" and also expresses Vietnamese philosophy "When drinking water, remember the source". Recognizing the worship ritual of the Hung Kings as a World Intangible Cultural Heritage of Humanity is an effort to keep their own cultural and spiritual values.
The worship ritual originates from ancestor worship rituals in Vietnamese families and has become a significant cultural festival for the people. It helps to link the past and the present and foster strong sentiments of Vietnamese people for their families and country.
The worship ritual ceremony was inspired by the legend that Vietnamese people originated from dragons and fairies. The entire ritual is dedicated to the Hung Kings, the nation's legendary founders, and has been in practice for thousands of years--now deeply embedded in the psyche of the Vietnamese people.
Therefore, the worship of Hung Kings has become a unique cultural ritual in the spiritual life of the nation. It is also a symbol of origin that stimulates solidarity and national pride.
The Hung kings worshipping rituals are closely related to the worship of ancestors that is a tradition of most Vietnamese families and an important part of the people's spiritual lives.Ruling the country over 18 generations, the Hung Kings taught the people how to grow wet rice. They chose Nghia Linh Mountain, the highest in the region, to perform rituals devoted to rice and sun deities to pray for lush crops.
To honour the great contributions of the Hung Kings, a complex of temples dedicated to them was built on Nghia Linh Mountain, and the tenth day of the third lunar month serves as the national commemorative anniversary.
On major Hung King festival days, communities make offerings of rice-based delicacies such as square cakes (banh chung) and glutinous cakes (banh day). People engage in verbal and folk arts and performances including reading of supplication petitions, praying, bronze drum beating and xoan singing.
These traditions are therefore a powerful expression of the richness of Vietnamese national history and solidarity, powerfully expressive of its people's reverence for their ancestral past and vibrant cultural heritage.
The worshipping space with the highest number of practitioners in Phu Tho is the Hung Temple complex, which includes Lower (Ha), Middle (Trung) and Upper (Thuong) temples o­n Nghia Linh mountain, Viet Tri city.
Hong Nhung