A Vietnamese contestant has won an award at the 8th International Guitar Competition held in Berlin, Germany.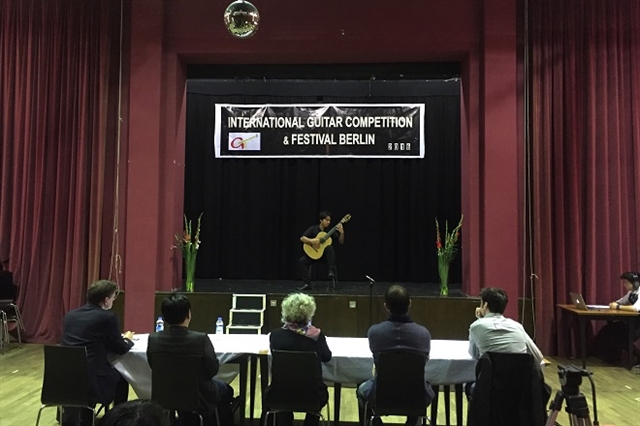 photo: VNS

Suite Kiều, composed by professor and composer Đặng Ngọc Long based on the literary masterpiece The Tale of Kiều by celebrated Vietnamese poet Nguyễn Du, was selected as a mandatory test at this year's competition and Đào Như Khánh won special prize in the contest.
According to a Vietnam News Agency reporter in Germany, the contest was held virtually by the Berlin Guitar Music Association (Gitarrenverein Berlin eV) and the Berlin-Gesundbrunnen Music School (Musikschule Berlin-Gesundbrunnen due to the COVID-19 pandemic.
Nearly 40 contestants from 30 countries, including two Vietnamese candidates, submitted entries to the jury consisting of five members who are professional professors and musicians, including musician Đặng Ngọc Long as chairman of the jury and professor Inge Wilczok as vice president.
The top contestants were admitted to the final round after competing in three rounds starting from January 2020.
Suite Kiều, a work of seven chapters of about 15 minutes long, was divided equally among each round, along with other testing works.
According to musician Long, Suite Kiều being selected as the compulsory test was meaningful as this year marks the 255th birthday and the 200th anniversary of the death of Nguyễn Du.
Regarding the compulsory competition of Suite Kiều, he noted that Vietnamese music was difficult for some European candidates due to its unfamiliar tunes.
"However, the contestants have seriously studied the content and the ways of reciting the Tale of Kiều before so their performances were pretty fluent," he said.
According to the final results announced on October 31, the first prize went to contestant Yaroslav Makarich of Belarus.
The second prize went to Thai contestant Chinnawat Themkumkwun, third prize went to Italian artist Luca Romanelli and the special prize was awarded to Vietnamese contestant Đào Như Khánh.
The winner of the first prize received a certificate with the guitar Roge Yang and will be invited to perform and be a member of the jury for the Berlin International Guitar Competition in 2022.
The Berlin International Guitar Competition has been held every two years since 2006 by the German Ministry of Foreign Affairs, the Goethe Institute, the Union of Musicians of the Federal Republic of Germany, the guitar producer Roge Yang and some cultural associations in Germany.
(VNS)