(Cinet)- Numerous visitors from different localities across Vietnam flocked to Tien Du district in northern Bac Ninh province to attend the Lim festival which is dedicated to Quan Ho (love duet singing), part of the world's intangible cultural heritage on on March 2-3.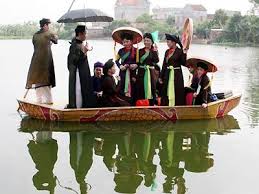 Illustrative image
The annual festival is held on Lim Hill where Lim Pagoda is located. The pagoda is dedicated to Hieu Trung Hau, who invented Quan Ho on the 12th and 13th days of the Lunar New Year.The rich and diverse tunes and fine lyrics of the songs portray the zest for life and distinctive cultural features of people in the region formerly called Kinh Bac.
The incense-offering liturgy expresses gratitude and respect of the locals to him, and is also an occasion to remember the origin of Lim Festival as well. Lim Festival is also space for various folk games such as "danh du" (bamboo swings), wrestling, cocks fighting, tugging war, blindman'sbuff, human chess, pot beating, etc. Especially, visitors can know more about culture of Vietnamese people in Red River Delta region with the competition of weaving.
Besides Quan Ho singing , Lim Festival is also space for various folk games such as bamboo swinging, traditional wrestling, earthenware pot breaking and human chess.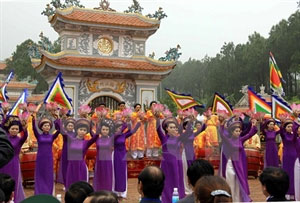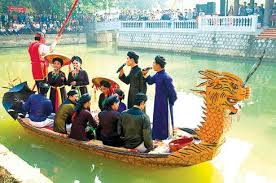 Love duet singing, which was inscribed in UNESCO's intangible cultural heritage of humanity list in September 2009, is an art form combining various elements, including music, lyrics, costume and a unique style of singing the reflects the close relationship between singers. Performances of love duet songs are made by "lien anh" (brothers) and "lien chi" (sisters), who are ordinary people hailing from different villages.