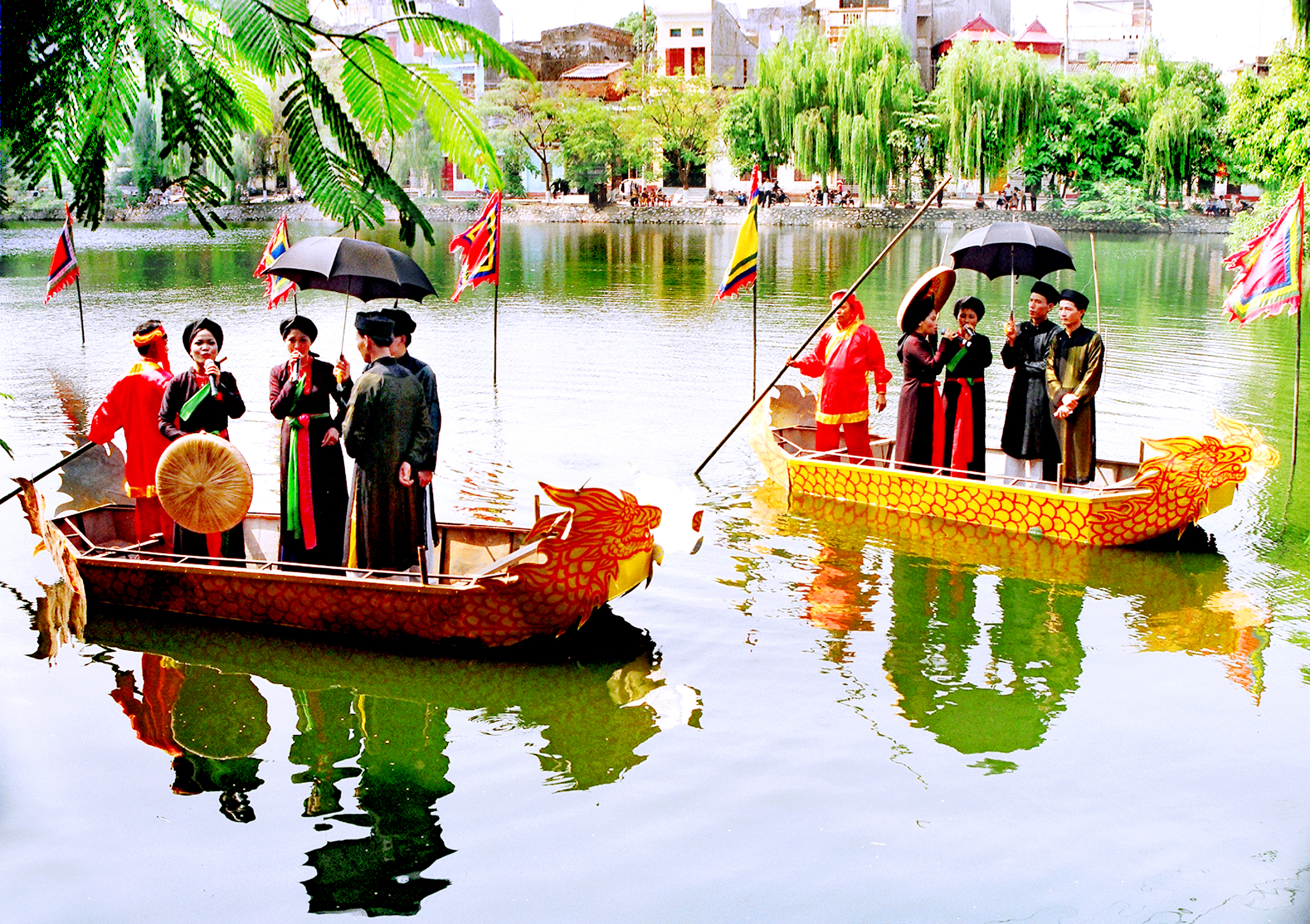 Lim Festival. Photo:internet
(Cinet)- Like other religious festivals, the Lim Festival goes through all the ritual stages, from the procession to the worshipping ceremony, and includes other activities.The most typical Lim Festival feature is Quan Ho singing, a special folk song, which includes betel offering, hailing ferry and others.
About twenty kilometers away from Hanoi, Lim Village of Bac Ninh province is the "hometown" of Quan Ho folk songs, one of Vietnam's intangible cultural heritages. In order to enhance and promote the tradition of Quan Ho singing, Lim Festival is eagerly celebrated among local residents as well as pilgrims from every part of the country around the 12th or the 13th day of the first Lunar month. Different from song exchanges in other places, the
Quan
Ho
folk song festival is very well-organised.
Originally, Lim Festival aimed to worship Ba Mu, a child of Noi Due hamlet who led her religious life as a Buddhist nun at Lim Pagoda. After acquiring enlightenment, Ba Mu protected all residents within Lim Village from a severe drought. As a result, Lim villagers glorified Ba Mu as their guardian, and the enlightenment date of hers was taken to be the celebration day of Lim Festival. Gradually, the festival has played a vital role in promoting Quan Ho folk songs and become the leading Quan Ho festival throughout the country.
Visitors from everywhere come to enjoy the festival and see the performances of "lien anh" (male singers) and "lien chi" (female singers). These singers are normal farmers of the village and others in daily life, but surprisingly turn out to be the nation's most skilled
Quan
Ho artists on the special occasion of Lim festival. Their singing performances are consisted of different types of songs, and have ranging stages: in the pagodas' yard, the communal house' yard, on the hills, even on boats gently rowed along the river, or elsewhere.
The singers are mostly categorized into two groups, which are called brothers and sisters groups. They dress in their best and distinctive style: men wearing long dress and holding umbrellas, and women, elegant four-flapped dresses with colourful belts, which is their discreet manner, and traditional large flat hats. They have a unique way of approaching one another in the form of songs.
In terms of content, the Quan Ho song exchange is multifaceted, involving analogies, questions and replies and quizzes on a myriad of subjects. One of the characteristics of Quan ho that remains throughout the time is the proper verbal and poetic introduction to every tune. Quan ho singers are not only appreciated for their singing ability, but also for their skill in leaving an impression of their gracefulness and literary adeptness on the audience. As a rule, all messages must be in songs with occasionally some explanations to further elucidate the ideas. During lunch, the host singers must provide company to their partners, offer them food and, again, songs. In the afternoon, the visiting singers are requested to continue the song exchange up to midnight when there would be recess and a tea party. Thereafter, the song exchange goes on until dawn, when guests and hosts and hostesses, again in the form of songs, bid farewell and express keen hope to meet again some time in the future.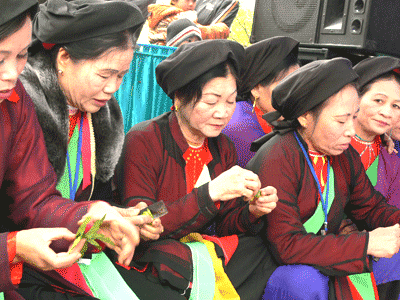 Village festivals also involves many other traditional games and entertainments, contests, fairs and cultural activities, such as human chess, water puppetry, lion dances, swinging, wrestling, cock-fighting and more. It is also a traditional opportunity for young men and women to seek life partners. Young men and women who want to find their partners often come up hill to sing. There men hold umbrellas while women are wearing flat palm hats, without concern about the sun or rain. Sometimes they can even sing all night to show their love, ebullient passion and grace. Besides, visitors can come to the Lim Festival to enjoy the weaving competition of the Noi Due girls. They weave and sing Quan Ho songs at the same time.