(Cinet)- Du Khiem pier and Xung Khiem floating pavilion in the ancient city was restored after almost two years of restoration work.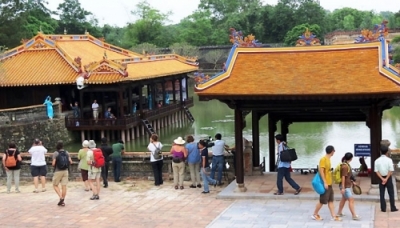 Imagative image
Covering around 12 hectares on Van Nien hill in Thuy Xuan ward, Hue city, King Tu Duc's tomb was constructed between 1864 and 1867. The tomb is a typical example of the traditional royal mausoleums of the Nguyen dynasty and one of the most visited tourist attractions in the ancient capital.
Xung Khiem floating pavilion was a place for the King to take a rest, and enjoy fresh air and arts performances while Du Khiem pier was a wharf where the King's boat anchored during his visit to Luu Khiem Lake. The Hue Traditional and Royal Theatre of Arts will also stage performances at Xung Khiem pavilion from April 1. Audiences will have a chance to enjoy Hue folk songs, some of them with lyrics composed by King Tu Duc, and readings of the King's poems.
Project launched in May 2013 with a total investment of VND 26 billion (US$1.2 million) was restored by the Hue Relics Project Management Board to conserve the two structures and Khiem Cung Gate in the imperial tomb of King Tu Duc. The preservation of Khiem Cung Gate is expected to be completed at the end of this year.
Director of Hue Monuments Conservation Centre Phan Thanh Hai said that Xung Khiem pavilion and Du Khiem pier are unique and rare structures of King Tu Duc's tomb and the Complex of Hue Monuments in general to be built on the water in 1846.
Two structures helps to significantly improve services for tourists while bringing back the poetic beauty of King Tu Duc's tomb, thus contributing to safeguarding and promoting the treasured value of the UNESCO-recognized Complex of Hue Monuments.