(Cinet)- The Black Lolo is one of the two subgroups of the Lolo, a minority group of over 4,200 in Vietnam. Living in small villages in a remote area of Cao Bang Province, the Black Lolo and their fashion remain strongly connected to their origin.
Black is the main color in the Black Lolo's fashion. The Black Lolo women's top is rather short, exposing the midriff, although today a pastel colored, such as blue or pink t-shirt may be worn underneath. The top has long sleeves four stripes on top, near the shoulder of the wearer and nine wide bands of colors at the bottom. At the back of the tops are colorful panel of appliqué and embroidered squares. Traditional women of Black Lolo usually put on wide legged black pants with an additional cloth worn around their hips. Their belts are made of multicolor strings with coins and keys hang at the front and a small cloth bag hang at the back. Some of the women today still have their teeth dyed in black. Silver earrings in the shape of studs and strands of white beads and/or silver hoop necklaces are common accessories. Silver is extremely important for the Black Lolo. They believe that silver accessories not only make people more beautiful but also help to prevent evils and unlucky things in life.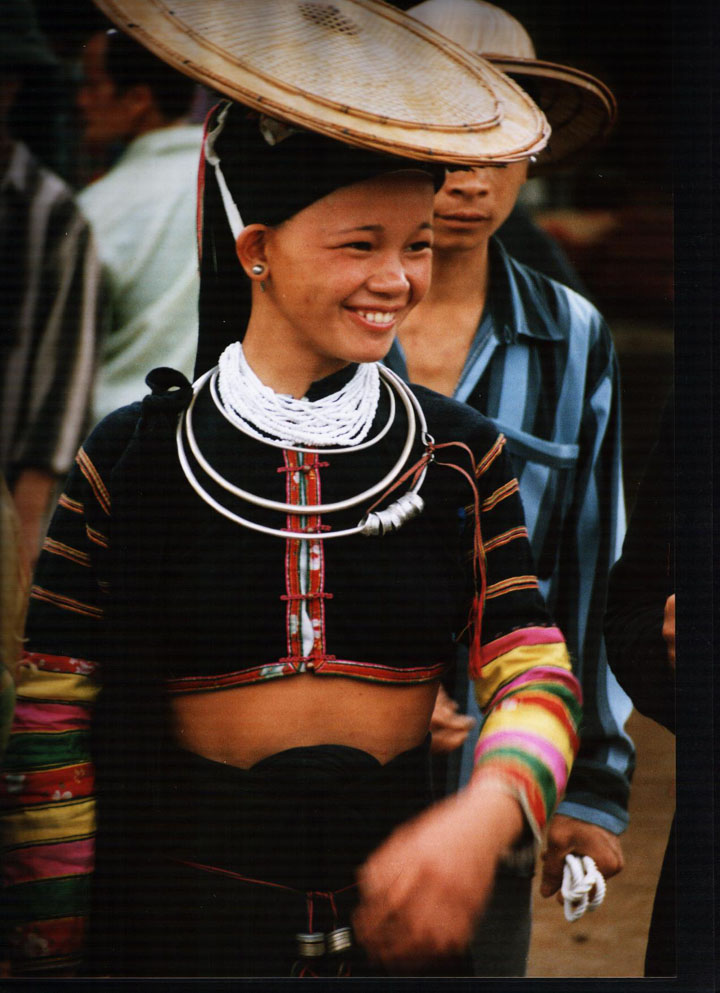 A Black Lolo girl in a short top, showing her midriff (source: Internet)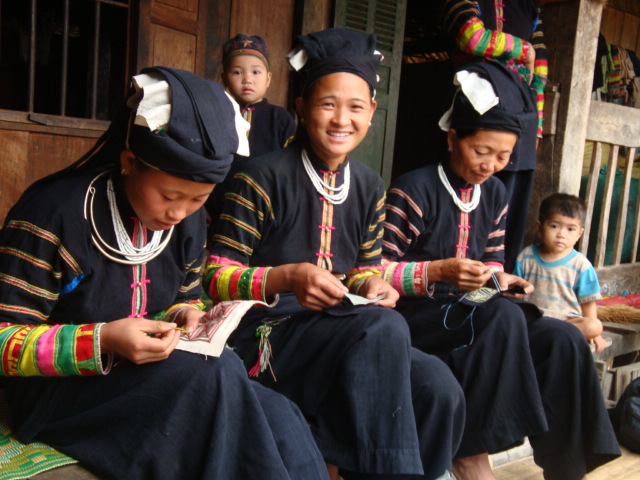 The Black Lolo women in their daily life (source: Internet)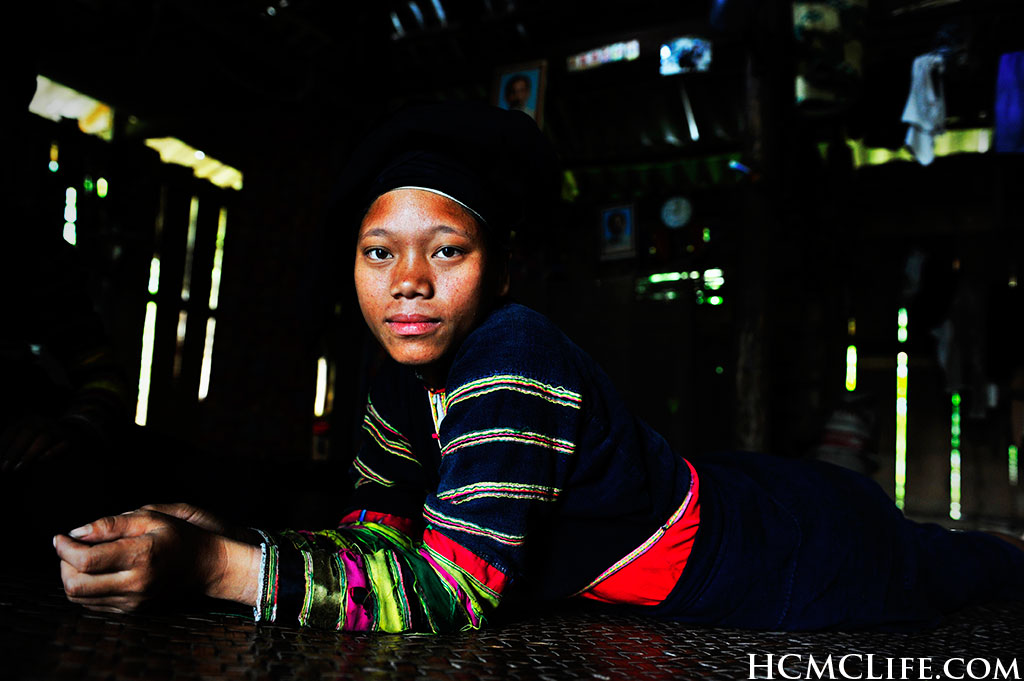 A Black Lolo girl (source: Internet)
The Black Lolo men's fashion is quite similar to what the Nung and the Tay men usually wear. Traditional men of the Black Lolo put on a hand-woven long shirt in indigo, blue or black with buttons at the right side and wide legged pants. They also wrap a headdress which is smaller in size than what is worn by the women, around their heads and wear silver bracelets. Some men today often add one or two western elements into their style, such as a golf shirt underneath the traditional shirts or a modern baseball-style cap.
Today the Black Lolo's life is still attached closely with their tradition. Cotton bolls, spinning wheels, warping reels, weaving loom, indigo plants and dye pots can be seen easily in every house as beautiful evidences of the continuity of ancient textile traditions among the Black Lolo.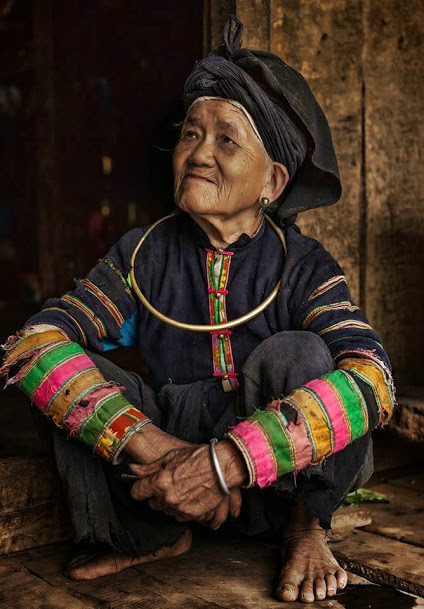 (source: Internet)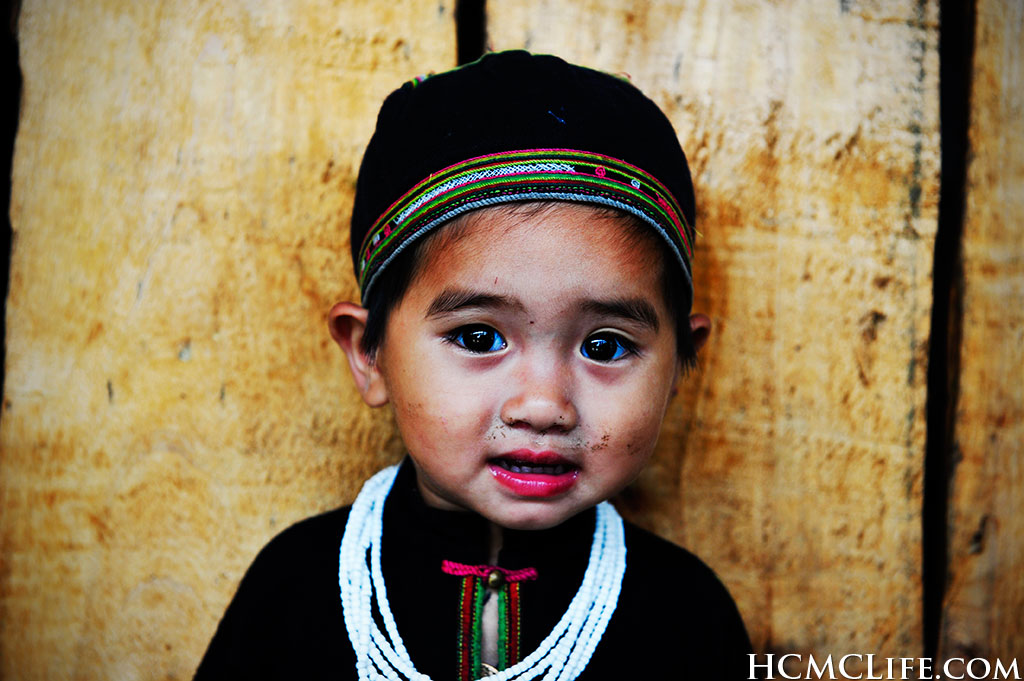 A cute Black Lolo kid (source: Internet)
Phuong Do