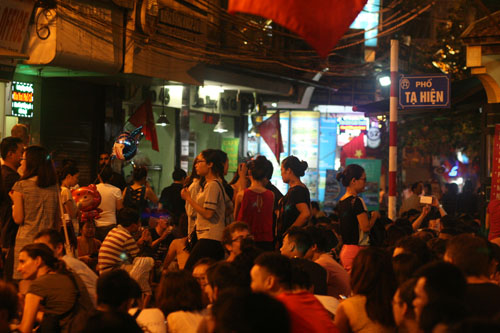 Ta Hien street
(Cinet)- The Old Quarter preserves the cultural lifestyle of Hanoi. At night, walking on the streets here, visitors can walk, shop, enjoy music, cuisine and relaxing moments with friends.
As the oldest continuously developed area of Vietnam, Hanoi's Old Quarter has a history that spans 2,000 years and represents the eternal soul of the city. Located between Sword Lake, the Long Bien Bridge, a former city rampart, and a citadel wall, the Old Quarter is considered the heart of the capital city.
In 2004, the first pedestrian streets in Hanoi's Old Quarter were inaugurated. Visitors can walk, shop and sample street food in four streets blocked off pedestrians: Hang Ngang, Hang Dao, Hang Duong and Dong Xuan. For four years, the pedestrian streets in the Old Quarter have been drawing a growing number of both locals and tourists.
The night market features a diversity of goods, from clothes to personal accessories to household items and food and drinks. The absence of vehicles and public transportation makes the air a lot fresher. More importantly, walking brings people closer to one another.
In early October 2014, Hanoi turned the six streets of Hang Buom, Ma May, Hang Giay, Luong Ngoc Quyen, Ta Hien and Dao Duy Tu in the Old Quarter into roads for pedestrians.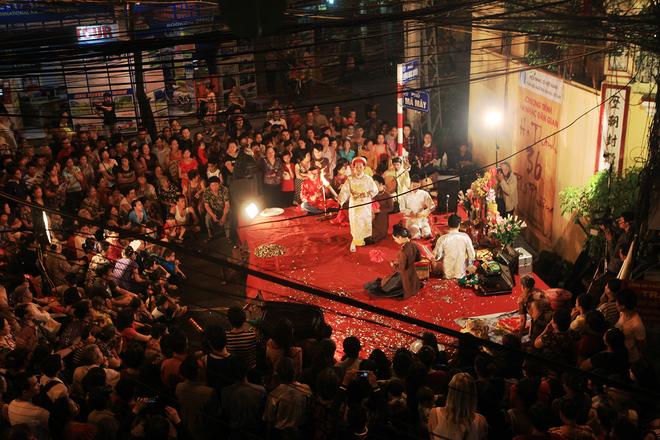 Traditional music attracts the interest of foreign visitors.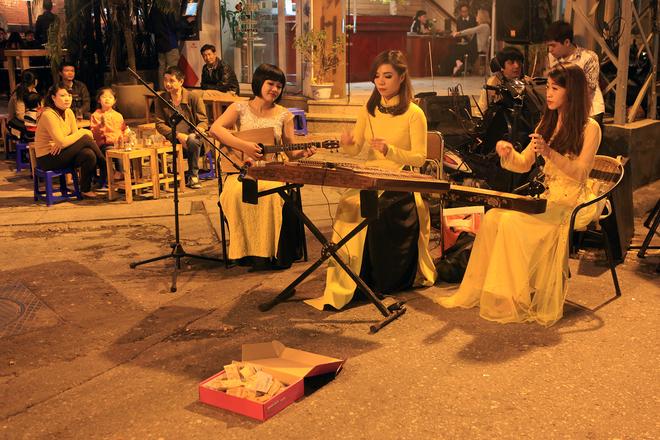 On Dao Duy Tu, Ma May, Hang Giay, and Luong Ngoc Quyen, artists play music for pedestrians.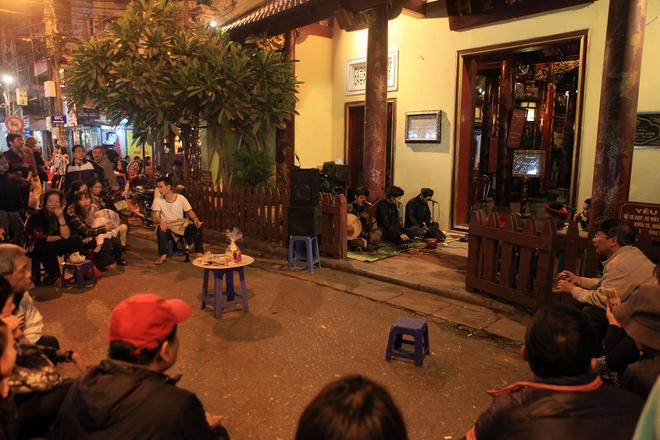 Traditional music like xam, ca tru and chau van is performed at the Bach Ma Temple (intersection of Hang Buom- Hang Giay).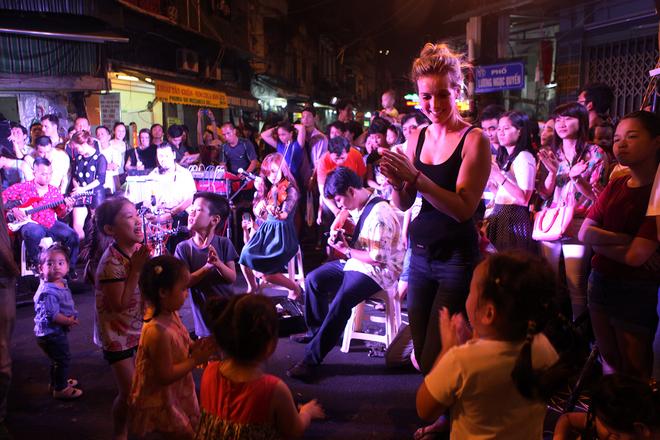 Visitors to the pedestrians streets will find plenty of the most famous Hanoi street food and traditional dishes such as Bun Thang (Rice vermicelli soup served with shredded chicken, fried egg, meat dumpings and mushrooms), La Vong grilled fish, Pho (noodle soup served with beef or chicken) and Bun cha (rice noodles served with grilled pork). Vietnamese cuisine is among the world's finest and what you have an opportunity to taste here will send your taste buds to heaven.
It's not necessarily complicated dishes that attract the tourists. Simple traditional food like Vietnamese "stretching candy" or keo Keo, is sold from a colorful cart, with a big umbrella. The name of this candy describes it exactly.
Pedestrian streets are familiar in many countries, displaying consumer goods, food and drinks. Pedestrian streets in Hanoi's Old Quarter also showcase cultural performances. There are two mini shows every week, featuring a variety of music, from Vietnamese traditional music to classical symphonies.
Established in 1450, Huong Tuong temple is located in the middle of the pedestrian area. It honors Nguyen Trung Ngan, a governor of Thang Long, the former name of Hanoi. The temple's front area is a place where the music shows take place every week. The music varies from Ca tru, or ceremonial singing, and Chau van or spiritual singing, to "Quan Ho" singing – a typical form of Vietnamese folk duet singing that originated in Bac Ninh Province.
The pedestrian streets shine bright at night with the installation of decorative lights. High-voltage lights are used to light some historical and cultural relics. Licensed vendors erect stalls in the street and itinerant vendors are banned. There are seven licensed parking lots with a total area of nearly 650 square meter to accommodate the motorbikes.