(Cinet)- After Van Phuc silk in Hanoi, Nha Xa Village in Moc Nam Commune, Duy Tien District, Ha Nam Province is well known for silk weaving and its silk.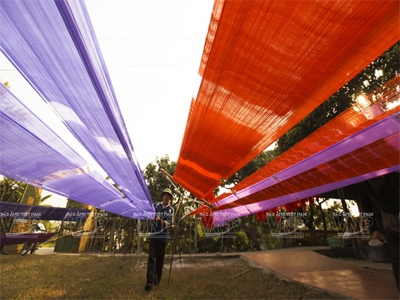 Nha Xa silk products were available in many provinces and cities nationwide and ranked second only after Van Phuc silk in Hanoi. Although facing tremendous difficulties in production and looking for markets, the villagers have made great effort to preserve their traditional craft.
Legend has it that the village's craft founder was Prince Nhan Hue Tran Khanh Du, a talented general in the Tran Dynasty. During a trip on the Red River, he taught people in the village how to catch fish on the river for breeding, to plant mulberry, to raise silkworms and to weave silk. Since then, the silk weaving craft in Nha Xa Village has been handed down from generation to generation.
The village has undergone great changes. The whole village has about 200 power-looms. Some households have a production line with 4 - 5 power-looms which operate at full capacity. Many large workshops have dozens of weaving machines, including ones specialising in producing high quality products to provide to Hanoi, Hue, Da Nang and Ho Chi Minh City, and export to Laos and Thailand.
Especially, each family in the village has their own secrets of mixing colors and adjusting temperature to dye silk to have the perfect color which will not fade easily. Dyed cloth then is washed and dried by machines and not by the traditional method of sunlight.
Pham Thi Ha, the owner of Hoat Ha Workshop in the village, said that due to the unstable market in recent years her workshops and others have faced tremendous difficulties in looking for markets to sell their products. To meet the demand of customers, they make different products of high quality, such as tussore, satin and flax.
The craft now not only has developed in the village but also in other neighbouring areas such as Lanh Tri, Chuyen Ngoai, Hoa Mac and Dong Van, providing jobs for hundreds of households. Despite the ups and downs, the craft has been preserved by the villagers who always desire to introduce their products to not only the domestic but also to foreign markets.