(Cinet)- Thua Thien Hue is a province in the North Central Coast region of Vietnam, approximately in the centre of the country.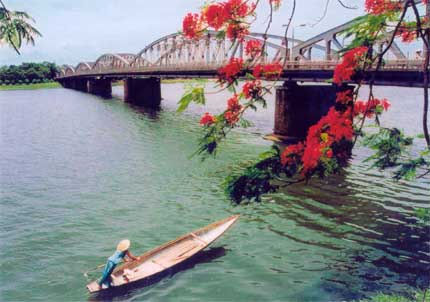 Illustrative image
Area:5,010sq km
Population :1,003,000
Provincial Capital:Hue City
Districts:Phong Dien, Quang Dien, Huong Tra, Phu Vang, Huong Thuy,
Phu Loc, Nam Dong, A Luoi and Hue City.
Cultural Heritage and Tourism
Hue is one of places, which has many cultural heritages. Up to now, there is no places like Hue remaining a lot of originally historical vestiges as in this ancient Capital City. Throughout the centuries, the quintessence of country converges here to create a fantastic natural picture with romantic river and charming mountain. Therefore, Hue is considered as the palaces, temples, majestic tombs, famous destinations…
On the Northern bank of Perfume River has relics consisting of palace.This valuable construction includes more than 100 architectural works which were extremely reflected the life of Emperors and mandarins under Nguyen reign. Among these tombs are the four famous ones with the name and the arrangements of the tomb reflected each Emperors points of view, personality, and tastes. This is majestic Gia Long tomb, imposing Minh Mang tomb, poetic Tu Duc tomb and magnificent Khai Dinh tomb.
Located in the heart of Hue, on the northern bank of the Huong River, the architecture system represents the authority of Nguyen absolute monarchy before changes of time. It is the Hue citadel, Tu Cam Thanh. Thua Thien Hue existed reputation gardens such as: Ngu Vien, Thu Quang, Thuong Mau, Truong Ninh, Thieu Phuong… The architecture of gardens combines with availability factors creates a specific type of garden in Hue.
Performing Arts and Festival
Hue's festival and music in here had developed. The court has Te Giao ceremony, Te Xa Tac, Nguyen Dan, Doan Duong, Van Tho, Dai Trieu, Thuong Trieu, Ban Soc, Truyen Lo, Duyet Binh… Common people have various festivals: Hon Chen, Cau Ngu, Sinh… Besides, there has ritual form of folk music such as: "tuong" Hue, dance of Hue…
The tourists will have opportunity to live in vivid space associated with the cultural festival of hundred years ago. A lot of foreign tourists are curious about Hue's ritual royal music. Originated from 8 kinds of ritual music under Le dynasty, under Nguyen dynasty, it has improved into 2 kinds of music: "Dai nhac" and "Nha nhac", which are really magnificent, and skillful. Those are only played on formal occasions. This city is proud to be the cradle of traditional music. The Royal Refined Music was proclaimed by UNESCO as a Masterpiece of the Oral and Intangible Heritage of Humanity on December 1993. Traditional music has been preserved in the Hue city. Recently, we have established submissions for UNESCO recognized Hue royal music: Nha nhac is a masterpiece of intangible and cultural heritage.