(Cinet) - Phu Tho shares border with Tuyen Quang, Yen Bai provinces on the north, Vinh Phuc, Ha Tay provinces on the east, Son La Province on the west and Hoa Binh Province on the south.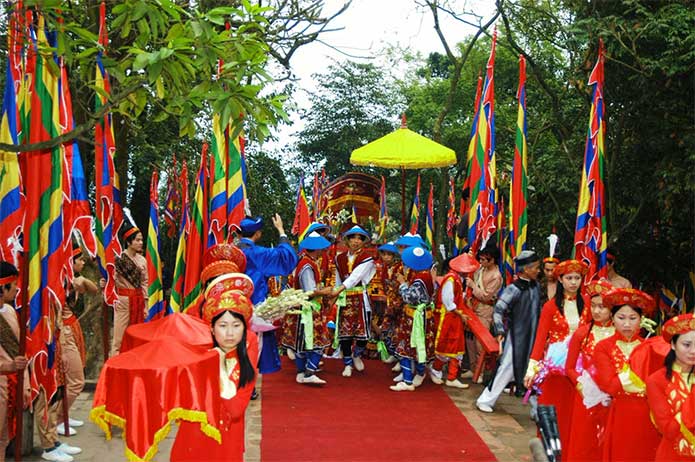 Illustrative image
The province has one town municipality, ten rural districts, five precincts, nine district-level towns and 181 communes. According to the General Statistics Office of the Government of Vietnam, the population of Phú Thọ Province as of 2008 was 1,364,700 with a density of 387 persons per square kilometre over a total land area of 3,528.1 square kilometres (1,362.2 sq mi).
Cultural Heritage and Tourism
About cultural heritage, the province is home to 292 areas, including special national relics, 73 national relics and 218 provincial relics.
There are 161 archaeological relics in some dynasties of Son Vi, Phung Nguyen, Dong Dau, Go Mun and Dong Son.
Phu Tho is considered as ancestral land of Vietnam. Den Hung (Hung Temple) Remains is tied to the legend about 18 Kings Hung who Lang State, the first one of Vietnam, with Phong Chau as the capital. Xuan Son National Park and Ao Chau Pond are famous beauty spots of Phu Tho. Every year, Xuan Son attracts many tourists to come for recreation and discovery diversified flora and fauna. Heading for Ao Chau, tourists can enjoy the fresh air and taste local specialties like fruits, carps, turtles, crabs, snails and so on.
Performing Arts
Phu Tho is home of many festivals including Bach Hac, Chu Hoa, and most honourable one is Den Hung Festival. This festival is on 10th day of the 3rd lunar month annually corresponding to the anniversary of the Kings Hung. Now, it becomes a great ceremonial festival of the Vietnamese nation. Beside of these, the people here preserve some traditional songs: xec bua, vi, dum, xoan, gheo songs.
Xoan singing or
hat cua dinh
(singing at the communal house) is a kind of performing art relating to worshipping gods. In the past, Van Lang people held Xoan singing performance in the spring to welcome the new year. There are three forms of Xoan singing as the worship singing to commemorate Hung Kings and village guardian gods; the ritual singing to pray for good crops, good health; and the festive singing – a form of love duet.