(Cinet)- Cao Bang situated in the Northeast of Vietnam is the land of rich revolutionary traditions of Vietnamese people. The province marks resounding victories of the people of Vietnam. Every place, every forest, every road here seems associated with the development of Vietnam's revolutionary history and the life of President Ho Chi Minh in the early stages of the war.
The province has borders with
Ha Giang
,Tuyen Quang, Bac Kan, and Lang Son provinces. It also has common international border with Guangxi province -China. The province covers an area of 6.690,72 square kilometres, and its population was 507.183 peoples (
according to statistic in 2009
).
Cultural resources
Cultural heritages
Cao Bang is the land of a long revolutionary tradition and the original place of Vietnam's revolution. In the 224 historic sites and landscapes, 23 were rated at national level and 6 at local level. Typically, the historical area of Pac Bo, Kim Dong historical relic includes his tomb and a spacious monument at the bottom of a high and massive stone mountain range; Tran Hung Dao Forest was listed in the nationally significant historic landmarks at the end of 2013; There are also famous historical relics such as Dong Khe Victory and historical and cultural heritages such as Sam Temple in honour of Nung Chi Cao, King Le Temple in honour of King Le Thai To, ect.
Performing Arts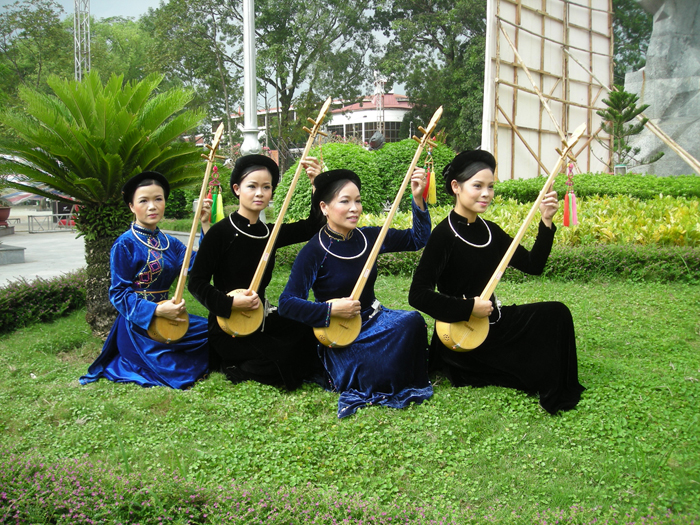 Then singing - the art activity of the peoples in the mountainous northwest
"Then" singing - the art activity of the peoples in the mountainous northwest is a synthesis of folks consisting of singing, music, dancing and performing tricks. "Then" singsing in Cao Bang owns a community feature and all singers, both man and women with skillful performances can sing this type in many places, in different periods of celebrations. "Then" singing is of a great significance of cultural and spiritual life of the Tay in this region.
Since August Revolution (1945), "Then" singing has been transformed into a new kind, especially from 1960 to date. "Then" singing is performed publically, scientifically and reflects a new life with a new content and a new kind of music. .
Destination
Cao Bang is endowed with many natural masterpieces such as Nguom Ngao Cave, Ban Gioc Fall, Thang Hen Lake, Khuoi Lai Lake, Phja Oac - Phja Den ecotourism destinations. Visitors to Cao Bang will be involved in many unique traditional festivals of the peoples annually and admire the beauty of the traditional villages.
After identifying strengths and potentials of tourism in Cao Bang, the Provincial Party Committee developed the Tourism Development Programs such as development programs in key tourism areas; Tourism Development Program 2011-2015.
Visitors can stay at hotels of good quality like Anh Duong Hotel, Bang Giang Hotel, Duc Trung Hotel...ect and enjoy the famous specialties such as Da Hien vegetable (or Phien Yien in local language, 7 – taste fried duck, quiche egg cake, Trung Khanh chestnut , steamed stick rice with fillings, ect.