(Cinet)- Vietnamese Culture and Uncle Ho Culture is the culture of people, by people and for people. This is a successively harmonious selection, inheritance and promotion in the endless course of time; culture is creativity, only creativity is culture.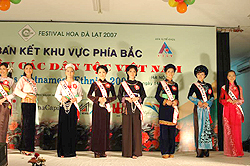 The true cultural value always attracts strongly and encourages greatly people towards good characters: truth, willingness and perfect beauty although each person's opinions and beliefs are very different.
The strength of Vietnamese Culture - Uncle Ho Culture brings the Vietnamese Nation a strong vitality. Being dominated for about 1000 years, Vietnam wasn't assimilated and in contrast, it itself accumulated and developed to become a powerful force which contributed to gaining independence for the country. On the one side, this significant achievement is due to the fact that the Vietnamese make efforts to preserve the national culture. Vietnamese people defeated their stronger enemies. On the other hand, the country was independent because of the power of Vietnam Patriotism, Vietnam Culture, and Heroism in combination with Creativity and Intelligence. The renovation cause for wining the big victory is of the historical importance, which affirms Vietnam culture's creativity, vitality and stability. To cope with currently ongoing situations, we must build a new social life towards "an advanced culture, unique national character".
In their good living conditions, Vietnamese people still keep saving money and being modest about expenses and enjoying themselves. In social relations, they show deep gratitude and have respect for teachers, heroes and contributors to the nation. In the process of communication and talk with the world culture, they always express their national character friendly emotions and understanding. The factor "human being" is highly appreciated in relationship with international friends. In addition, their attitude and spirit "share and love and protect one another" among nations, residential classes, community groups and individuals is seen as a cultural character in life and a behavioral way of the Vietnamese.
At present, money has a strong impact on man's thought and treatment behavior, weakening traditionally moral and human nature values of the people. It is worthwhile to say that Vietnamese people's traditional lifestyle is gradually being commercialized. Spiritual life and rites, the Holy place of festivals also become self – interested businesses for some individuals and communities. For example, wedding is considered a holy traditionally custom of each person while birthday as well as longevity ceremonies are regarded as celebration days of happiness and growth turning-point , but now they are business places where people can make profits.
Improved living standards and development economy make communicative atmosphere and behavior polite and civilized, forming a basic foundation and necessary condition for stable development in all fields such as economy, politics, society and culture. The more civilized society is, the more independent people are. The foregoing make activities and social relations more healthy, however, somewhere market economy results in heavy inequality between employers and employees. For instance, some authorities use their own positions to force staffs to obey their absolute orders. Society loses democracy step by step.
In many locals, authorities are not concerned about people's opinions, ideas, and recommendations and even harm persons who fight against their orders. Each level and each sector in coordination with the whole people and the Party study and follow a good example, Ho Chi Minh. The country should promote idea work and enhance cultural personality and human nature in individuals, communities and the whole society, implementing development targets: rich people, powerful nation, fair society, democracy and civilization.