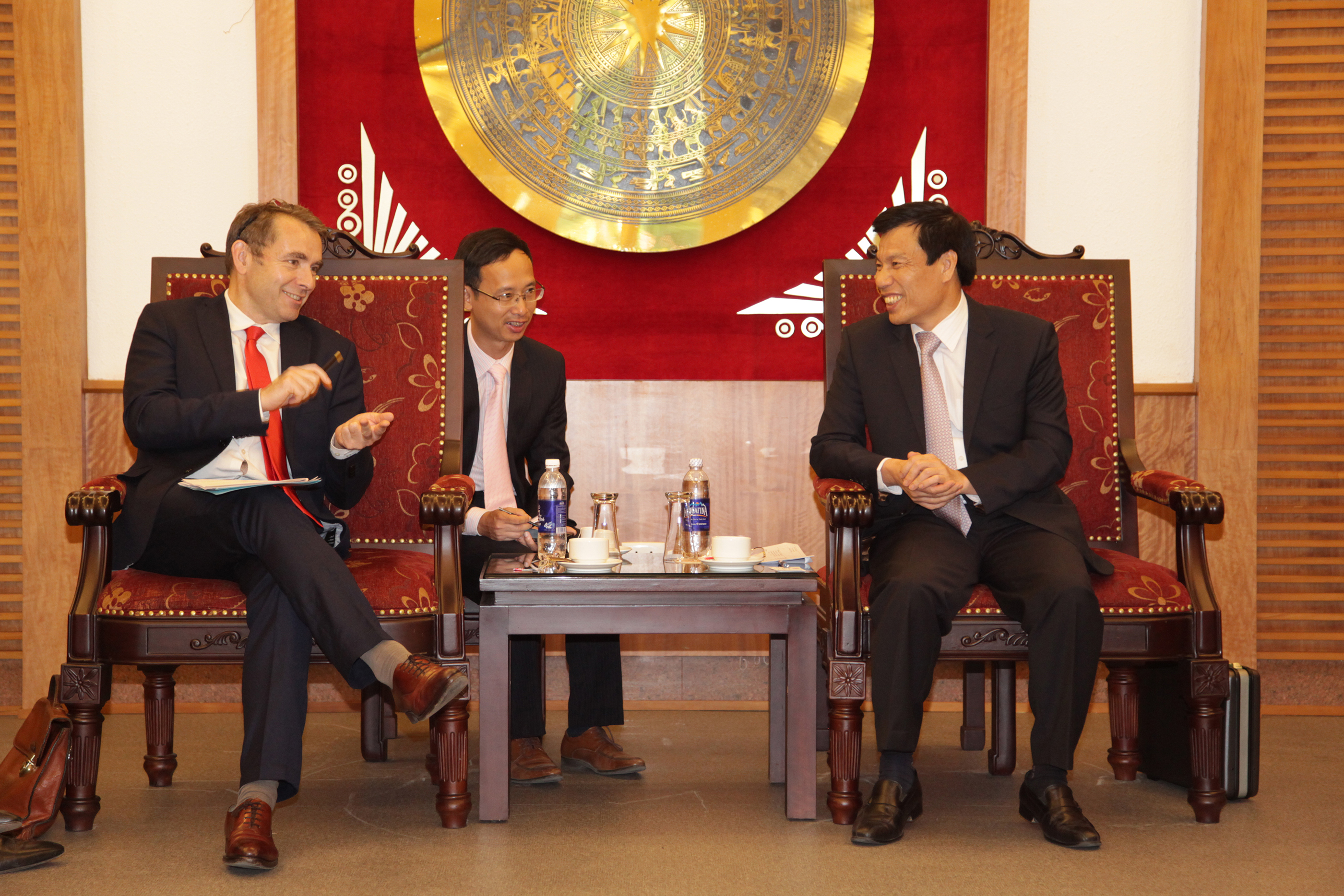 At the greeting. Photo:Internet
(Cinet)
- Minister of Culture, Sports and Tourism Nguyen Ngoc Thien had a greeting day with Mr. Jean- Noe"l Poirier, France's ambassador in Viet Nam on May 23, in Ha Noi,
At the greeting day, Minister Nguyen Ngoc Thien highly appreciated cooperating relation about culture, sports and tourism between Viet Nam and France in the past time.
Two sides built French Cultural Center in Viet Nam and Vietnamese Cultural Center in France, creating cultural bridge between two countries, organizing some exchanging activities to introduce picture of land and people to international friends.
The Minister stated that two sides should enhance cooperating, exchange and create more conditions for Cultural Centers to attract some meaningful activities.
"Government of France respects some international cooperating activities to Viet Nam. Beside cultural cooperation, the Government supported Viet Nam some fields of education and science." Mr.Jean- Noe"l Poirier affirmed.
Building French Cultural Center in Ho Chi Minh city aims to exchange culture between two nations.
Therefore, France's embassy has promoted some projects on building French Cultural Center in Ho Chi Minh city under control of France's embassy.
About tourism, France is one of some big markets of Viet Nam. Tourists to Viet Nam have been rising. The Government between two countries supported people to have chance to discover land and traditional culture. Two sides signed Tourism Development Cooperation Program in 1997-2000.
About sports, two sides appointed some athletes to participate into the international tournaments.
Closing at the greeting day, Mr.Jean - Noe"l Poirier stated his role to develop culture, sports and tourism between two countries.