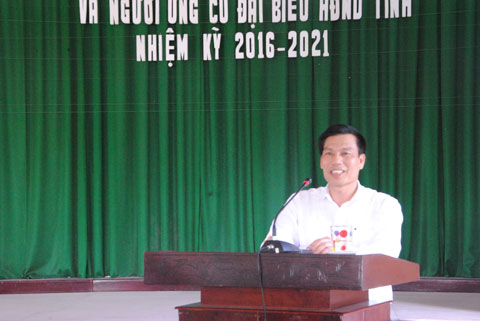 At the greeting day.Photo:Internet
(Cinet) - On May 06, Minister of Ministry of Culture, Sports and Tourism Nguyen Ngoc Thien and other candidates in the 14th National Assembly (NA) had a meeting day in Quang Dien district, Thua Thien Hue province.
Minister Nguyen Ngoc Thien made a speech of action program as follows:
Complying with the Party and people; the State law; preventing corruption; meeting and connecting some candidates; sending some expectations of the candidates to the National Assembly; studying and taking over responsibility of the National Assembly's responsibility.
At the conference, some opinions from candidates were answered. Plan on building To Huu author's commemorating house in Quang Tho commune was agreed by the Minister to meet expectation of people about memorizing the famous poet. The Minister Thien required to implement some necessary procedures to submit to the functional agencies. The Minsiter continued to affirm importance on educating culture and morality of people nowadays, especially the youth.
About issues of Hoa Chau ancient citadel, some experts and researchers participated into archaeology but not recognized as the relic site. Minister proposed that Quang Dien's People Committee direct Department of Culture, Sports and Tourism to study and make clarification of value of the relic site and quikly make document for the relic site. The Minsiter said that some functioanl agencies of the Ministry should work with some locals and Department of Culture, Sports and Tourism to implement the task.