Chang Son fan-making village is very familiar and close to Vietnamese people. For a long time, the Chang Son fan was not only a useful utensil in daily life, but also a beautiful image appearing in many poems, on stages and in the cultural and spiritual life.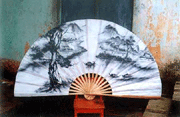 At present in Hang Quat Street in Hanoi, where millions of fans were sold to customers from Hue, Saigon (present-day Ho Chi Minh City), Laos, Hong Kong and China in the past, there is a house at No. 4 embossed with the three scripts of Xuan Phien Thi (lit. the market sells spring fans).
When speaking about the history of fan making in Chang Son Commune, Thach That district, Ha Tay province, almost all Vietnamese people are very proud of it. From the 19th century, the French people were so keen on it that they took the Chang Son fans to participate in many fan exhibitions held in Paris. Artisan-artist Duong Van Mo, who has 70-year experience, said that the fan making in Chang Son Commune has existed for hundreds of years and it is still preserved by the villagers. To make a beautiful and durable fan requires meticulousness and skillfulness from the fan makers. Normally, the fan's blades are made from bamboo, which is at least three years old and grows in the middle of a grove. Moreover, to make fans more durable, the fan makers use joined blades, which have to undergo many stages, such as cutting the bamboo into short pieces, scrashing off its green cover, splitting the bark of bamboo and applying a layer of varnish between the slats. Then, they are tied up in a bunch. After a few months when the layer of varnish is dry, the slats of bamboo are whittled to make the fan blades. Paper to make fans must be do (poonah) or diep (poonah paper covered with egg-shell powder) bought in Dong Ho Village, Bac Ninh Province. For a long time, the fans made by the Chang Son villagers were well known in both domestic and foreign markets. In Chang Son Commune, there are now many famous fan-making artisan-artists, including Nguyen Duc Lan and Nguyen Lan Tuyet. Over the past ten years since the national renovation, the Chang Son fans are also valuable products for export to Japan and the Republic of Korea. Artisan-artist Duong Van Doan, Chairman of the Chang Son Fan-making Cooperative, said: "In 2002, the Cooperative exported its products to Japan in various styles and modes as required by the Japanese.
At present, the Cooperative is preparing to sign another two agreements with Japan and the Republic of Korea." To export more fans to overseas markets, the Chang Son villagers make fans with diversified and plentiful styles and modes. They include not only paper and bamboo fans, but also chiffon and silk fans in all sizes, and painted fans, large in size. While the silk fans are mainly sold to artistic groups and used in festivals, the painted fans are to decorate the walls in houses. Making this kind of fans requires the makers to have a skillfulness and thorough knowledge of painting, especially the lacquer art. Besides economic benefits, such as increasing income for more than 20% of households in the commune, the fan-making craft in Chang Son has a great cultural significance. All patterns and designs on the Chang Son fans are very lively, creative and deeply imbued with the national cultural features. There are landscapes of the country, images in stories and legends of Vietnam, poems, literacy works, parallel sentences, folk-songs, chanteys, etc. Looking at the Chang Son fans, only simple colours, such as green, red, violet and yellow are seen. However, when the fans are unfolded and seen in the light, all the delicate decorative patterns and designs will appear lively and bright. To foreigners, they can see the characteristics of the Vietnamese people: simple but profound, and beautiful but discreet.
Source Vietnamgateway