A new art programme offering tuồng, or hát bội (classical drama) performances has been launched by a group of artists in HCM City as part of their efforts to introduce Vietnamese culture and theatre to young people.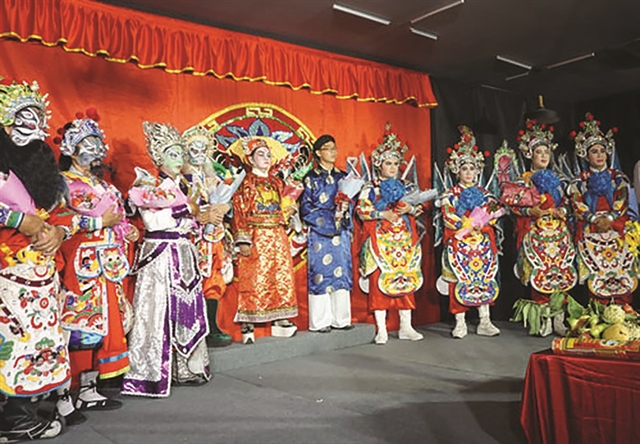 Young and veteran artists from the art programme Vang Vọng Trống Chầu are helping to preserve and develop tuồng, a traditional genre of Vietnamese theatre which began in the 17th century. Photo courtesy of tHCM City Hát Bội Theatre
The programme, titled Vang Vọng Trống Chầu (Echoing Drum), offers excerpts from famous plays featuring historical events and national heroes. The works highlight traditional culture and lifestyles.
Veteran artists such as Hữu Lập and Ngọc Khanh perform with their younger colleagues who are students of the HCM City Hát Bội Theatre, one of the region's leading traditional theatres.
Each 60-minute show of Vang Vọng Trống Chầu includes talks about tuồng's history and development during various periods. Dozens of musical instruments and costumes used in tuồng are exhibited after the show.
"Our programme aims to expand tuồng, a traditional art developed from folk art into a royal art in the 17th century, among young people. We hope audiences will learn about the country's history, culture and lifestyle through our performances," said the programme's head Phan Khắc Huy.
Huy said that he and his staff had worked hard because they wanted to "honour tuồng and its artists who have used their art to keep traditional Vietnamese theatre alive".
Huy has worked with Saigon Innovation Hub, the programme's investor, to help Vang Vọng Trống Chầu become more professional and a popular tourist destination.
"We hope our tuồng shows will attract local and foreign visitors who want to learn about Việt Nam's culture and theatre," said Huy, who has 10 years of experience in tuồng.
In 2015, Huy began working with HCM City Hát Bội Theatre to offer training courses in tuồng for amateur actors and high school and universty students. The courses' teachers are People's Artist Đinh Bằng Phi and Meritorious Artist Hữu Danh, who has more than three decades of experience.
Tuồng consists of singing and dancing accompanied by music, and is highly stylised and filled with symbolism. Its themes include monarchist loyalty and patriotism which help define the play's structure, language, music, struggles, and characters' personalities.
Performers wear heavy costumes weighing up to 10 kilos. They use their body, from the fingers to the elbows to all of the muscles, to move on stage. They must have a strong voice to sing and dance at the same time, and express the emotions of the characters.
Famous plays, such as Trần Bình Trọng Tuẫn Tiết (National Hero Trần Bình Trọng), Hồ Nguyệt Cô Hoá Cáo (Nguyệt Cô Turning into a Fox) and San Hậu (The Reign), have been staged many times by different generations.
In the last five years, HCM City's cultural authorities have offered policies and projects to help tuồng artists expand their art.
Shows of the programme Vang Vọng Trống Chầu are staged at 273 Điện Biên Phủ Street in District 3.
VNS