The first part of the documentary about great poet Nguyễn Du (1765-1820), titled Đại Thi Hào Nguyễn Du (Great Poet Nguyễn Du), will be in cinemas in HCM City this week.
The 40-minute work, Gia Thế và Tuổi Thơ (Family and Childhood), portrays the childhood of Nguyễn Du in Tiên Điền Village, Nghi Xuân District in the central province of Hà Tĩnh.
It focuses on the poet and his talent in poetry and music.
His father, Nguyễn Nghiễm, a mandarin under the Lê dynasty, is also highlighted.
The film made its debut in Hà Nội and Hà Tĩnh in September to celebrate the writer's 255th birth anniversary and 200th death anniversary. It made a deep impression on audiences.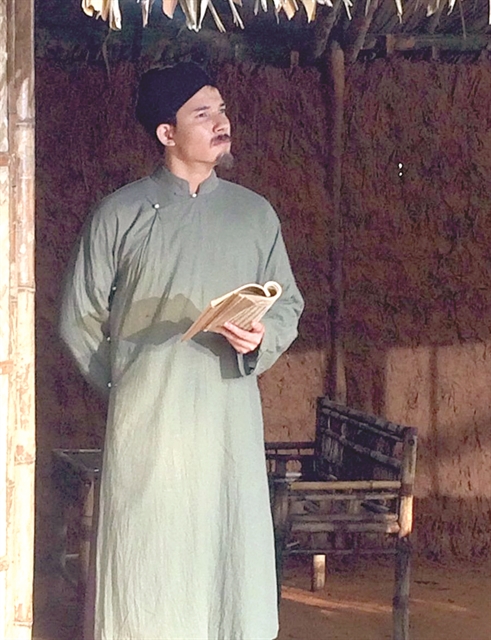 Along with the screening, an academic seminar on "Vietnamese Language in Truyện Kiều (The Tale of Kiều)", a famous epic poem written in Nôm (ancient ideographic script of the Vietnamese language) by Nguyễn Du, was also organised in Hà Tĩnh.
The event, organised by the People's Committee of Hà Tĩnh and its partners, attracted dozens of authors, composers and cultural researchers, such as professor Phong Lê, who is president of the Việt Nam Association of The Tale of Kiều Studies, and veteran poet Trần Đăng Khoa.
Its aim was to honour and pay tribute to Nguyễn Du, who created and brought the value of Vietnamese language to a higher level that no one had ever before accomplished.
About 50 presentations on the beauty and vitality of the Vietnamese language in The Tale of Kiều were introduced.
The film's producer, Phạm Xuân Mừng, who has 20 years of experience in film and literature, said the film Đại Thi Hào Nguyễn Du includes three episodes and shows the value and longevity of the masterpiece The Tale of Kiều as well as Nguyễn Du's significant role in promoting Vietnamese language.
Mừng said the film's second part, called Phong Trần và Thơ Ca (Vicissitude of Life and Poetry), is in post-production. The final episode, Truyện Kiều và Lan Toả (The Tale of Kiều - Longevity of the Masterpiece), will be completed next year.
He said key parts of the series used writings and studies from famous authors and cultural researchers.
"Our film aims to introduce and promote celebrated poet Nguyễn Du's masterpiece and other works to both local people and foreigners, as well as educate young generations about patriotism, national pride and encourage them to contribute to the construction of the nation," said Mừng, who is also one of the film's scriptwriters.
The film's veteran director Nguyễn Văn Đức and his staff travelled to capture beautiful scenes of traditional culture and rural life in Hà Tĩnh, Hà Nội, Bắc Ninh, Thái Bình and Huế.
He invited talented actors of leading film studios and art schools to play the lead roles. "I wanted my characters' lives to be realistic," said Đức.
More than VNĐ15 billion (US$645,000) was spent on filming of Đại Thi Hào Nguyễn Du. — VNS