Fans of fashion in HCM City were impressed by the hundreds of fascinating designs created by Vietnamese designers shown during the four-day Aquafina Việt Nam International Fashion Week (AVIFW) 2020, which closed on Sunday night.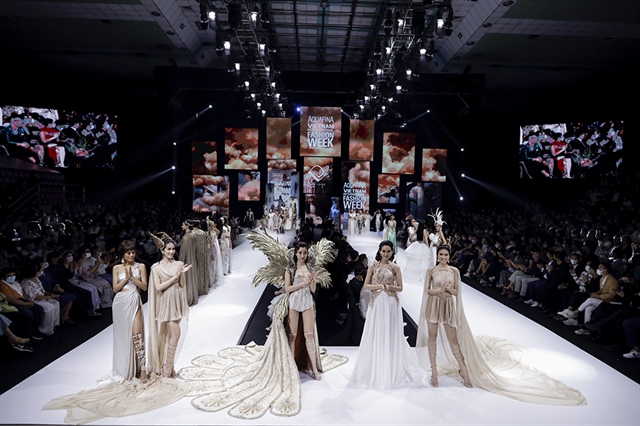 Designer Đỗ Long's "The Valley of Goddess" collection closes the Aquafina Vietnam International Fashion Week 2020. Photo courtesy of the organiser.
Seventeen Vietnamese designers presented collections of evening gowns, suits, streetwear, and áo dài (Vietnamese traditional dresses) for adults and children.
The designs are made with high-quality materials, including metallic fabrics, silk, organza, lace, and velvet with hand-embroidered and printed patterns.
Designer Đỗ Long closed the AVIFW 2020 with "The Valley of Goddess" collection inspired by Greek goddesses. It took 120 working days to hand-embroider crystals on his 35 gowns.
Two áo dài designers Minh Châu and Bảo Bảo brought the collections called "Kim Lang" (Groom) for weddings, and "Minh Tinh" (Superstar) highlighting the beauty of Vietnamese famed actress in the 70s and 80s.
Designers Thào Nguyễn and Ivan Trần introduced their new designs for adults and children in both a sweet and strong style.
Thảo's "I'm Happy" collection, a blend of military style with feminism, featured happiness in life, while Ivan's "Dreaming the Circus" showcased designs in futuristic style.
Designer Hoàng Minh Hà presented the "Chạm" (Touch) collection with sexy and romantic gowns in vivid colours.
Young designer Lý Giám Tiền, winner of the first season of the fashion reality show Project Runway Vietnam, impressed fashion lovers with his spring/summer 2021 collection featuring streetwear, suits, evening gowns, and innovative designs inspired by áo dài.
The 11th season of AVIFW also saw the participation of other famous designers like Lê Long Dũng, Hoàng Quyên, Nguyễn Tiến Truyển, as well as new graduates Võ Hoàng Long of the HCM City University of Architecture and Nguyễn Tùng Chinh of Hồng Bàng University, among others.
The catwalk featured winners of Vietnamese beauty pageants, top models, and child models.
The Việt Nam International Fashion Week was first held in 2014, and has become the leading fashion event in Southeast Asia and the fourth biggest fashion week in Asia after Tokyo, Seoul, and Shanghai fashion weeks.
VNS