A photo depicting a bội (southern classical drama) artist helping his stage partner put on makeup has won the top award of the Vietnam Photo Expression 2020 contest.
Entitled Workmates, the black-and-white photo was taken by medical doctor and photographer Đinh Công Tâm from the Mekong Delta province of Sóc Trăng.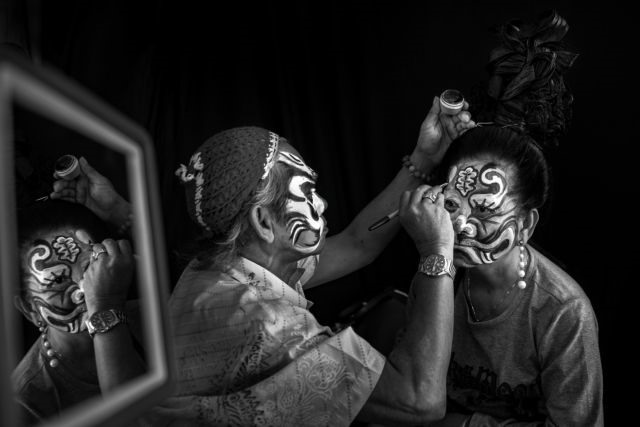 "Workmates" by Đinh Công Tâm - Photo courtesy of the artist
"I have been pursuing the photography of art performances behind-the-scenes since 2015. This image was taken behind the stage of a bội performance in Mỹ Tho City, Tiền Giang Province. For me, the most unique and impressive thing is to observe the artists who act the roles of generals and king in bội plays in the southern region.
"The way of painting on the face is clearly specified for each character who is easily recognised by the viewers at first sight," Tâm said.
Workmates is part of his photo collection Mặt Tướng Trong Hát Bội Nam Bộ (Generals' faces in the Southern Classical Drama) that he has made since 2015 to capture the uniqueness of the intangible cultural heritage that is gradually fading.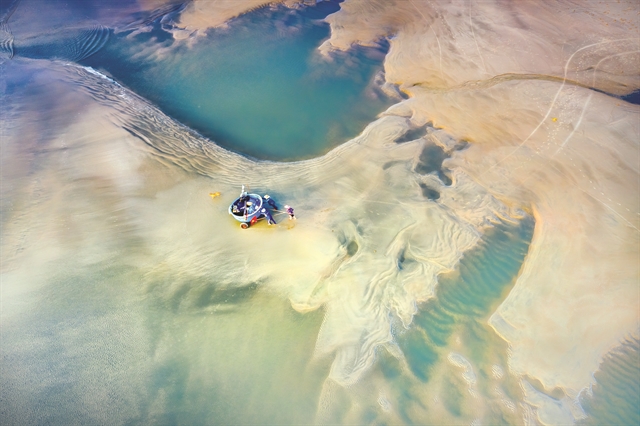 Two other top awards were granted to Seaside Picture by female photographer Ngô Thị Thu Ba, and Bảy Mẫu Coconut Forest by Phan Vũ Trọng, respectively.
Seaside Picture portraits a harmonious scenery of fishermen working on the sand with curving sand dunes and blue-coloured seawater, which contrasts with the golden brown colour of the sand. All of these created a vivid picture of the coastal area in Việt Nam.
"Việt Nam has a long coastline that stretches across the country. Every day, as the people in coastal areas take basket boats to catch fish, they join forces to push the boats from the shore across the sandy beach to the sea. It is the usual routine of their daily work. However, from the viewpoint of photography, they gave me strong emotions. This picture was taken in Bà Rịa - Vũng Tàu," Ba said about her photo.
Living and working in Hội An City, photographer Trọng enjoys photographing natural scenery and ecotourism. Bảy Mẫu Coconut Forest was taken in February after life returned to normal after the first small wave of COVID-19. At that time, local people in the Bảy Mẫu coconut forest area in Cẩm Thanh Commune, Hội An City started to welcome guests back.
Together with the top three photos, which were granted gifts equivalent of US$1,000 for each, 25 other best photos of the Vietnam Photo Expression 2020 are on display at an exhibition in Hà Nội.
Launched in August by UNESCO in partnership with the German Embassy in Hà Nội, Vietnam Today Magazine, and TOONG – the chain of co-working space, Vietnam Photo Expression 2020 is themed on 'Showing We Care, Sharing Our Vision on Culture Diversity'.
The photo contest aims to highlight the beauty of cultural heritage and cultural creativity in Việt Nam.
The applicants were encouraged to take into account the core UN principles of cultural sensitivity and diversity, gender equality, human rights and environmental sustainability in taking and selecting photos for submission.
Alongside the ongoing exhibition, the best 28 photos will also be exhibited at UNESCO events and functions. They will also be published in UNESCO publications in Việt Nam.
The German Embassy also plans to select some of the photos to present on the embassy's surrounding wall.
The exhibition is open until December 2 at the TOONG co-working space, 9th Floor, 5 Điện Biên Phủ Street.
(VNS)